'What we are seeing locally is that nurses are the tip of the spear in the resistance to vaccine mandates.'
Thu Aug 19, 2021 – 7:59 pm EDT
Republication by: Lawrence Morra III
Zero Lift-Off   Only The Beginning
For sharing and informational purposes only on this platform.
August 21, 2021
THE WORM BEGINS TO TURN, THE FIGURATIVE ONE!  WE ALREADY KNOW THE LITERAL ONE IN BIDEN'S HEAD HAS ALREADY FLIPPED AND DIED!
When I read that quote at the top of this page given to Alex Berenson the independent journalist coming out of Australia on I was elated to see that our heroic front line defense heroes the many nurses who care for us when in dire need; those Angels of Mercy have and are being inspired by God Almighty to stand up and be counted; as they are critical in this war against the Big Pharma and Bureaucratic Tyrants that have  attacked us all with their evil nefarious plan to subjugate us the Citizenry to a form of Captive Medical Tyranny along with Big Tech and MSM as their mass manipulators; partners in Crime!  Take a look at some of these comments going out on Social Media and feel the power of Truth from God speaking through The People!
      ENOUGH OF THIS SHIT!!!
This they do to us Citizens while unknown Criminal Foreign Invaders rush our Southern Border and are given free passage to anywhere within the interior of the United States of America!  What the Hell is Wrong with this picture?
And the Flavor of the Day is LOCK THEM UP!!! My Favorite Flavor whenever I get to watch Evil Tyrants get just what they Deserve!!!  They've Dehumanized us all long enough!!!
Now I have to say the Nurses deserve the highest marks in being the wonderful compassionate heroes that they are to do all they do normally taking care of the ill; but for them to take heed to the famous words of Edmund Burke touches my heart and soul deeply!
"The only thing necessary for evil to triumph is for good men to do nothing"
I do have to  mention a sad state of affairs with some of the law enforcement people around the globe!  In Australia it appears some are being REAL PIGS!!!
Funny thing is how the scum bottom of the barrel BLM or Antifa sorts, got to riot and burn buildings down, even raping or murdering innocent citizens for Leftist and Establishment NWO agendas!  But when common, deceit ordinary law abiding citizens get to a frustration point which is quite understandable and take to  the streets in order to make THEIR VOICES BE HEARD, the PIGS COME OUT IN FULL FORCE BASHING HEADS, showing us all what stupid idiots some of them are!  Hey dummy cops those are your neighbors and common folk just like you! So turn against the BASTARD'S and BITCHES that sent you out to crack some noggins; you are being USED FOOLS!  WAKE THE HELL UP!!!  We all have to FIGHT the ESTABLISHMENT!  YOU GET IT NOW?  They are out to KILL US ALL!
Australians have had enough !
Now that I got that off my chest; I  want to apologize to anyone I may have hurt with my own rhetoric, but, we are all only human and the frustration level has been building for over a year and a half which is killing some of us!  It is time to SAY IT LIKE IT IS and STOP the MADNESS!
I pray each day for all people to come together in "peace and understanding!" To see who our collective enemies are and go get THEM; to "lockup, prosecute and sentence" each and every one of them!  These Despots do not own us or this world just because they have billions upon billions of dollars! 
Let's Slam-Dunk Them All!
God bless you and yours.
Brother in Christ Jesus,
Lawrence Morra III
https://www.brighteon.com/embed/c39c458e-70f1-4bcf-9ae7-17e5e92bbd99
'What we are seeing locally is that nurses are the tip of the spear in the resistance to vaccine mandates.'
Coronavirus vaccine mandates about to cause major nurse shortage across the US, former New York Times journalist warns
Thu Aug 19, 2021 – 7:59 pm EDT
There is a significant chance that there will be a major shortage of nurses starting on October 1, former New York Times journalist Alex Berenson has reported, because they are quitting their jobs rather than take experimental coronavirus vaccines.
October 1 is the proposed deadline for mandatory vaccinations for staff in many hospitals, Berenson said, and the situation is so severe that he warned, "if you need to get sick, do it before the mandates hit Oct. 1.
Berenson, an independent journalist and novelist, is in communication with many people around the world and often posts to Twitter screenshots of vaccine-related emails he receives.
"What we are seeing locally is that nurses are the tip of the spear in the resistance to vaccine mandates," one person in correspondence with Berenson said.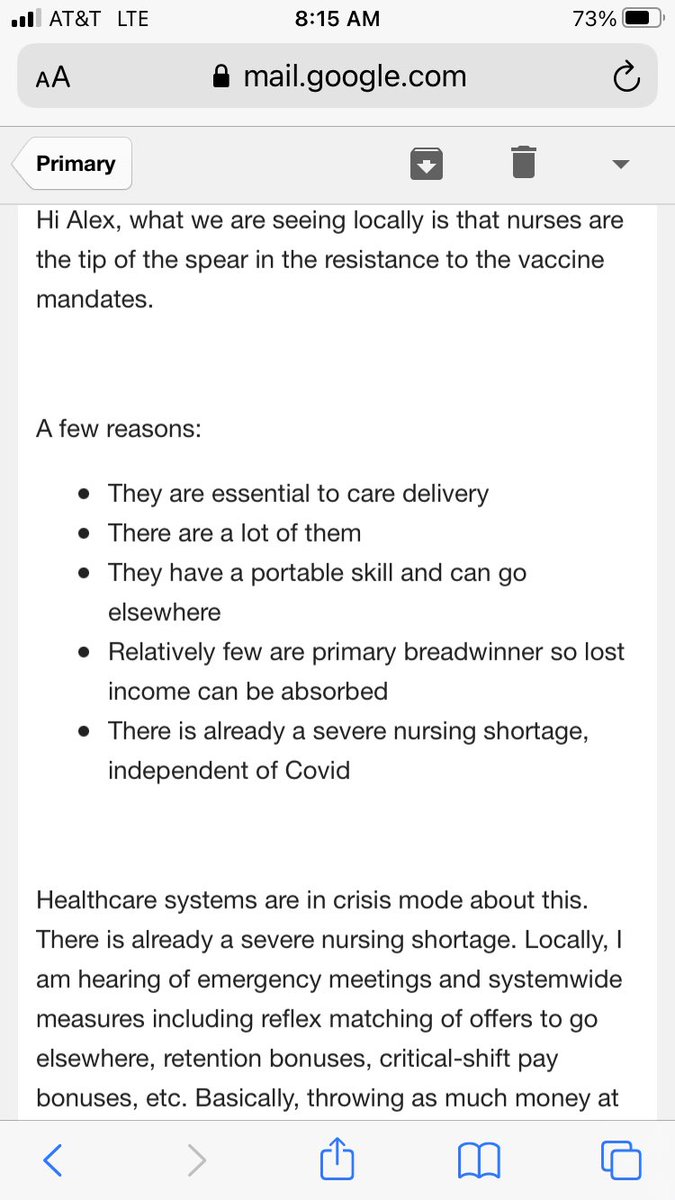 In the opinion of the person who wrote that email, the reasons that nurses are vital in the fight against mandated COVID-19 vaccinations are:
They are essential to care delivery
There are a lot of them
They have a portable skill and can go elsewhere
Relatively few are primary breadwinners, so lost income can be absorbed
There is already a severe nursing shortage independent of COVID
The same email stated, "Healthcare systems are in crisis mode about this. There is already a severe nursing shortage. Locally, I am hearing of emergency meetings and systemwide measures, including reflex matching of offers to go elsewhere, retention bonuses, critical shift-pay bonuses, etc."
This trend has been seen elsewhere in the United States, as well as in Canada. One hospital in Arkansas is so short on nurses that it is offering a $25,000 signing bonus as part of a contract. In Canada, the Windsor Regional Hospital is offering up to $75,000 in bonuses to new nurses from outside Canada or outside Ontario.
Berenson tweeted screenshots of emails he has received from nurses from around the U.S., explaining to him the reality of shortages in their hospitals and what a vaccination mandate would do to exasperate those shortages.
In one email, a nurse who asked to remain nameless wrote, "I work at CHOC Children's Hospital in Orange County, California. We have been mandated by the state of California to be fully vaccinated by 9/30/22. If we're not vaccinated we will receive a 5-day unpaid suspension beginning October 1st. If we don't get our initial vaccination in that 5-day time span we are terminated on October 6th."
California was the first state in the nation to mandate vaccinations for health care workers. Employees of hospitals, nursing homes, doctors' offices, clinics, and other medical facilities have until September 30 to get at least one dose of the coronavirus shot, under an order issued by Dr. Tomás J. Aragón, California's public health officer. In the meantime, if they are unvaccinated they must undergo mandatory weekly coronavirus testing.
According to the same nurse from Orange County, "There are currently 70 NICU nurses refusing vaccination. That unit will be in bad shape if they lose 70 staff members. Many nurses in other units are also refusing. Management is also telling staff that they aren't even allowed to speak about the vaccines at work."
Berenson tweeted that he "can't even count how many emails" he has received that are similar to this one.
As part of California's mandate, visitors to hospitals are required to provide proof of vaccination or a negative COVID-19 test in order to enter a hospital. The person who shared the same email Berenson shared said, "CHOC administration has decided to change the name of our visitors to "care partners" and has exempted them from showing proof of vaccination or a negative test. So while forcing young healthy employees to take a vaccine under EUA (emergency use authorization) they are going to allow visitors into the facility that could potentially infect staff and patients."
This issue is not unique to the state of California, as over a thousand health systems across the U.S. have mandated COVID shots for employees.
Berenson also revealed in the same Twitter thread that he had received word from an employee at a small system in Maryland with a high vaccination rate that they are still anticipating chaos when the mandate comes into effect. Due to demographic factors, such as an aging "baby-boomer" generation, there is increasing worry about a nursing shortage in the U.S., and so the potential loss of employees as a result of vaccine mandates could prove costly.
Alan Levine, CEO of Ballad Health in Tennessee, has said that even though he supports mandating the experimental shots, the resistance on behalf of a number of employees would lead to greater staffing shortages.
"If today I said, 'everybody's required to take the vaccine or you're terminated,' then I have a problem being able to take care of people who show up to our ER with strokes, or chest pains, or medical admissions or surgical admissions," Levine said.
The largest healthcare union in the United States, the 1199 United Healthcare Workers union in New York, has already mounted protests outside private hospitals that imposed vaccination mandates on their staffs. The union has publicly adopted a stance that its members should get vaccinated, but not be forced.
© 1997-2021 LifeSiteNews.com.
All Rights Reserved.
Fair Use
This site contains copyrighted material the use of which has not always been specifically authorized by the copyright owner. We are making such material available in our efforts to advance understanding of environmental, political, human rights, economic, democracy, scientific, and social justice issues, etc. We believe this constitutes a 'fair use' of any such copyrighted material as provided for in section 107 of the US Copyright Law. In accordance with Title 17 U.S.C. Section 107, the material on this site is distributed without profit to those who have expressed a prior interest in receiving the included information for research and educational purposes. For more info go to: http://www.law.cornell.edu/uscode/17/107.shtml. If you wish to use copyrighted material from this site for purposes of your own that go beyond 'fair use', you must obtain permission from the copyright owner.