Connecticut 'Satanic' Desecration Marks 11th Attack on Christian Church
St. Joseph Church in New Haven, CT
JOHN NOLTE 18 Jul 2020

Reblog:   Zero Lift-Off     Only The Beginning

by Lawrence Morra
"Many Multitudes are Serving the Beast"

Excellent and very truthful reporting on the actual situation as it's occurred. Far too many people in the United States and around the globe have already disposed of God and worship Satan or in other words are serving the beast! Many years ago I used to work with a man who was far more devout in his faith than I was but my heart was always in tune with or belonged to Jesus Christ; I just needed to put my focus on the will of God more and not on what I wanted. This friend told me that he and his wife had been to some religious retreats and were aware of some visionary revelations that they shared with me. The one thing I see now with the mob scenes and public figures entrusted with the leadership of some major cities is that they are all serving the beast, and, my friend told me it would be this way in the near future with wild mobs not even thinking or realizing what they are doing or serving! We are there folks, and, this is the real deal; that many people will not be saved from the bowels of hellfire and are going to burn there and suffer for eternity! But, it's so easy to avoid, by just turning to our Lord and Savior Jesus Christ while there is still that opportunity! The rest of us who remain steadfast in our faith must keep praying every day while doing our best to serve God the Father, seeking only to do His will by remaining close to the Holy Spirit. Amen.
Lawrence Morra
NarrowPathMinistries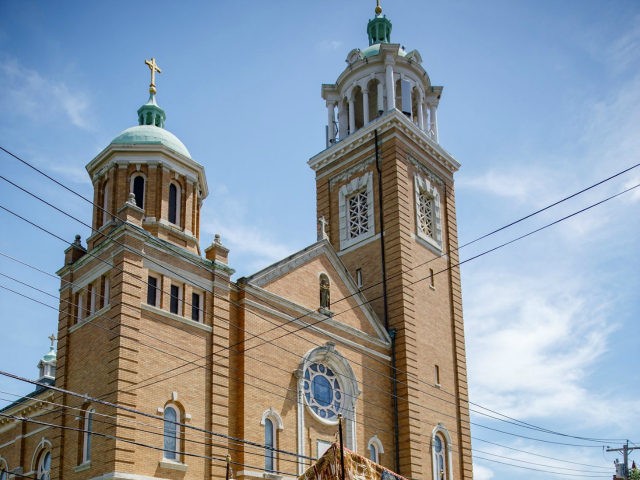 JOHN NOLTE 18 Jul 2020
"St. Joseph's Church … was vandalized this week, as an unknown individual or individuals painted 'satanic' and 'anarchist' symbols on its doors," reports the New Haven Register.
According to St. Joseph's pastor, Rev. John Paul Walker, the church was desecrated using pink paint, including a pentagram and the symbol for anarchy.
The church announced in a Facebook post:
Between the hours of 9 PM last night and 6 AM this morning, a person or group of persons had painted anarchist and satanic symbols on the doors of St. Joseph Church in New Haven. This follows an apparent trend of desecrating Catholic spaces throughout the nation, as evidenced by incidents in Chattanooga, Queens, Boston, Sacramento, and Ocala. The underlying motive of these sacrilegious attacks is clear: to intimidate and instill fear in the hearts of those who worship Christ.
After being shut down on Thursday…
View original post 441 more words