Michael Foust | ChristianHeadlines.com Contributor | Thursday, December 30, 2021
Republication by: Lawrence Morra III
Zero Lift-Off Only The Beginning
For sharing and informational purposes on this platform only.
January 3, 2022
I'm like that man in a very important way
After reading and watching this video I agreed with what Kurt Warner because I have to say many years I can see I have been a lot like him not in athletic prowess or any other mundane attributes and stature in life, but in our view of faith in Jesus Christ and how truly committed we both may have been throughout our lives and in the right ways, as I too have been raised as a good Catholic boy and on into my adulthood staying with the Church being comfortable in that faith even though I see so many attacks by Satan upon the Church over the years and how its now horrible to see a heretic ruining the Church from within; just like Biden and all the other destroyers working with him are dancing around like criminally insane drunk with power Banshees seeking more power and total control while tearing apart the Greatest Nation on earth bar none for so many years, which is now being reduced to rot and cannon fodder as these communist dictators are obliterating it from within. 
I could identify immediately with how Kurt loves children and can connect so well with them as he did with his now wife's son so early on in their relationship; as I've always been one to watch over the younger siblings or cousins growing up and then eventually wanting to help any of my nieces or nephews when I could by always at least wanting to be there and give them the best advice and genuine love I could.  Like a second dad or just a really loving uncle should.  There is so much need out there in this messed up screwed over world right now and what a shame, that so many children are falling through the cracks and into serious hardship or even much worse turmoil, as they grow up in broken truly dysfunctional insecure and even godless homes! Add to that now a world that is even more dysfunctional than that, which is coming apart at the seams! I see how guys like me not due to being cold or indifferent but how we can want to disengage from this horrendous mess because there is a slippery slope out there too, an ugly underbelly of troublemakers, where a person man or woman can have great noble intentions, and then end up in some quagmire of insanity because evil is getting its due; especially where and when it comes to true goodness, which it hates with a vehement passion.  End times Good will be despised it says right in Scriptures, by so many people in all stations of life.
2 Timothy 3:1-5
"But understand this, that in the last days there will come times of difficulty. For people will be lovers of self, lovers of money, proud, arrogant, abusive, disobedient to their parents, ungrateful, unholy, heartless, unappeasable, slanderous, without self-control, brutal, not loving good, treacherous, reckless, swollen with conceit, lovers of pleasure rather than lovers of God, having the appearance of godliness, but denying its power. Avoid such people."
A world where the following adage has taken a full grip and bite out of genuine giving humanity, due to the dangers of even being good!  Like being a walking target in an upside down  world now; where the bad guys are allowed to burn cities down and rape or pillage and walk away scot-free!
The road to hell is paved with good intentions is a proverb or aphorism. An alternative form is "Hell is full of good meanings, but heaven is full of good works".[1]       
"Another interpretation to consider would be; One is naive and acts in good faith with no altruistic objective. It merely seems as the proper or even sensical thing to do. In this scenario the act, regardless of its virtue, leads the actor to unintended negative consequences." https://en.wikipedia.org/wiki/The_road_to_hell_is_paved_with_good_intentions
This is like asking oneself now, do I feel OK to get in the cage of a ferocious lion even turning my back to him, let alone stick my head into its mouth when it hasn't eaten in days! I see why more people than not are saying, not my problem, and I didn't cause all that grief for those people, even those innocent kids, which is so opposite of when I was growing up and people were more willing to be engaged and helpful to at least some reasonable human degree, when it was appropriate; but now people ignore their neighbors or see something that looks or seems pretty sad, and don't even want to ask if everything is OK!
Anyway, my main point is times have so severely changed for the worse, that if we don't see the writing on the wall yet, we never will; and this battle we're all in, whether you accept that fact or not, requires at least the best, brightest and strongest who have genuine faith in the Lord, to be ready to follow the Father's will to whatever place He requires of those of us that get that calling, just like Kurt did; God bless him! Amen.
Watch the video or read the text its the same, but, I did both to not miss a beat and see what the Lord is saying here!
WHAT IS LIFE ALL ABOUT!
God bless you and yours.
Brother in Christ Jesus,
Lawrence Morra III
Kurt Warner Reveals Moment He Realized God Is Not a 'Spare Tire' – 'I Had' it 'Mixed Up'
Michael Foust | ChristianHeadlines.com Contributor | Thursday, December 30, 2021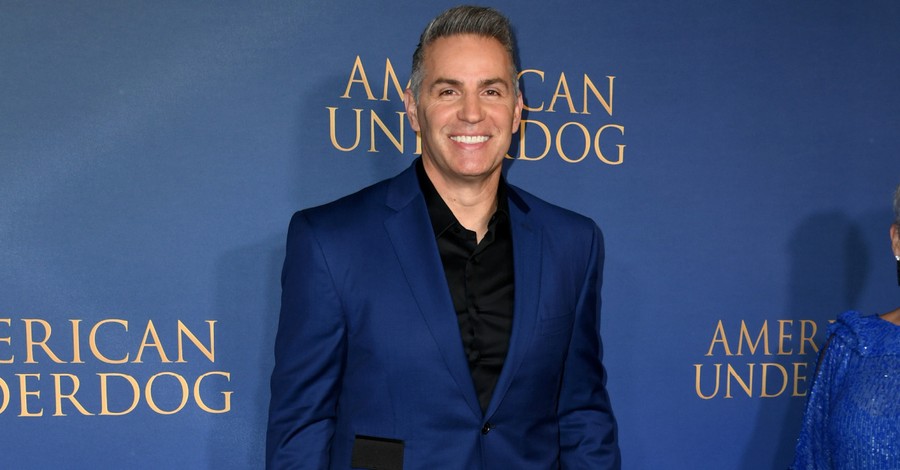 Hall of Fame quarterback Kurt Warner says in a new video that his Christian faith soared after he met his wife Brenda, who he says challenged him "early and often" about what he believed about God.
As a child, Warner studied at a Catholic school and went to church every Sunday. Yet, his faith "was never really personal for me until after I met my wife," he says in the new video released by I Am Second, an organization that interviews well-known individuals about their faith.
Warner's story is the subject of the new movie American Underdog (PG).
When they were dating, he said, Brenda was always "talking about Jesus."
"She challenged me early and often in our relationship about what I believed – and why I believed it. I think before that I always felt faith was kind of, well, God was out there, and whenever I needed Him, He was like my spare tire – that when I get a flat, I'll go and pop the trunk and pull out the spare and God, You know, I need this."
When he read the Bible closely and in "context," he said, he realized he had his view of God backward.
"I had this mixed up. … God's not just here for me …. [T]he goal is that I'm here for Him. I'm here to give my life for Him as Jesus did for me," Warner said. "And it started to become real. I started to understand and take a different perspective on what life was all about. And it took some crazy moments to really understand that."
One moment that impacted him, he said, was the tragic death of Brenda's parents in a tornado – a subject that's confronted in American Underdog.
"I remember how she didn't have all the answers," Warner said. "She was angry. And she was willing to call out to God and ask God why and yell and scream – but never lose her faith. It was never one of those things where, 'Oh, God, you allowed this to happen to us. So now I'm going to walk away from You.' That's what a relationship is to me. It's about being able to disagree in moments, to be angry in moments, but not allow that to stop the relationship. And, to me, that was when I kind of stepped back and [thought], everything that she's been talking to me about, 'This is what it looks like, this is what it's supposed to be.' And it was in those moments where I came to realize, 'Okay, I've never had that. And that's exactly what I want.' And it was at that time where I really committed my life to Jesus."
Warner won a Super Bowl and played in two others. He was inducted into the Pro Football Hall of Fame in 2017.
4 Things to Know about American Underdog
Kurt Warner Grew Closer to Christ Thanks to His Wife: 'I Was Challenged in My Faith'
Copyright © 2022, ChristianHeadlines.com. All rights reserved. Article Images Copyright © Getty Images unless otherwise indicated.
Fair Use
This site contains copyrighted material the use of which has not always been specifically authorized by the copyright owner. We are making such material available in our efforts to advance understanding of environmental, political, human rights, economic, democracy, scientific, and social justice issues, etc. We believe this constitutes a 'fair use' of any such copyrighted material as provided for in section 107 of the US Copyright Law. In accordance with Title 17 U.S.C. Section 107, the material on this site is distributed without profit to those who have expressed a prior interest in receiving the included information for research and educational purposes. For more info go to: http://www.law.cornell.edu/uscode/17/107.shtml. If you wish to use copyrighted material from this site for purposes of your own that go beyond 'fair use', you must obtain permission from the copyright owner.