I Had to post these words from a lengthy comment I made on another blog site today for Jesus Christ; to share them as much as possible.
Bravo thank God for you Kathleen, and you're having this most compelling Blog Site with your associates.  As I may have said to a degree or indirectly this to me is at the top of any truly noteworthy Blog Site, and all contained in it is imperative, trustworthy knowledge for all!  I'm humbled by your gracious consideration.
It makes me sick and dizzy now, to see so clearly and then think about what the tyrannical monsters who have absolutely sold their souls to Satan, are getting away with here among us, with all the hardcore evidence and proof in the pudding as it were, which is right in our faces! Yet so many just blow it off and say whatever, and go their merry way being idiots, virtually saying; sure hang me who cares anyway; so little faith they display toward their God and Savior!  Are people now reduced to less than herd animals and laughing about God's purpose and final judgment?  They are so damned busy trying to form cliques or get some adulation by strangers in a cyber space artificial world; does this make them feel important, and like they accomplish something of lasting value or that will save them from hell fire!  I say this, do these people, really think when they face their maker He will just say, oh that was so nifty how you wasted all of that time looking for self-aggrandizement but really should have been putting most, if not all of that time, into worshiping Jesus Christ who is the only power in all of existence who can make certain you won't be dispatched to everlasting punishment, you fallen and so unworthy as you are to be in the Glory of God; especially while you were being faced with a global calamity and human disintegration the likes of which has never been before.
In my opinion they may as well smoke another joint or drink a bottle of booze because they are going down in flames already! They can't see the forest for the trees when they clearly should and have ample opportunity!  Not even awakening to the fact of how exponentially worse this world is now than when the Great Flood came, or when Moses came down to the people from Mt. Sinai with God's commandments or how bad things had gotten when God sent his chastisement upon Sodom and Gomorrah!
Yet, now ignoring all the signs and warnings God is allowing to manifest before our eyes.  Do they think Biden is getting away with all he has done and is doing; with a son that is a devil's spawn of his own corrupted ways; do they not see "God Almighty is only allowing" this Man of Perdition in America's seat of absolute worldly power to carry on!  It's happening only because we are all either instruments which are used to His will and purposes; to use any of us as He will, to accomplish His WILL, which is all that matters; not ours or anything else's!  He is the author of the universe and knows all and is All the beginning and end all, the Alpha and the Omega; we fools know jack or diddly-squat, even Einstein admitted the same! God made Einstein to be a part of His plan and Einstein did serve God well in my book, so we would have that wisdom source to counter the renegade "Junk Science Preachers" both secular and spiritual of this time; he was a tool for God's purposes and plan; not a devil like Biden or Fauci, Gates, Xi and countless others!  And so, we are either children of God only wanting to seek him and follow the light of truth to eternal Life; or we are his avowed enemies who only seek death and evil.
Don't be such fools I say to people, there are satanic persons on this internet and I ran into one who is truly evil with a false front to deceive others but she is a conscript of hell.  Some persons that followed me and I was glad to have them only so they pick up a few good pointers and see the light hopefully; had actually started to follow that witch, who blasphemes God all day long and all religion openly; yet they followed her and showed their true colors to me, and sorry to say, out of necessity I blocked them all.
"1But know this, that in the last days [a]perilous times will come: 2For men will be lovers of themselves, lovers of money, boasters, proud, blasphemers, disobedient to parents, unthankful, unholy, 3unloving, [b]unforgiving, slanderers, without self-control, brutal, despisers of good, 4traitors, headstrong, haughty, lovers of pleasure rather than lovers of God, 5having a form of godliness but denying its power. And from such people turn away! 6For of this sort are those who creep into households and make captives of gullible women loaded down with sins, led away by various lusts, 7always learning and never able to come to the knowledge of the truth. 8Now as Jannes and Jambres resisted Moses, so do these also resist the truth: men of corrupt minds, disapproved concerning the faith; 9but they will progress no further, for their folly will be manifest to all, as theirs also was." 2 Timothy 3
What is wrong with so many people I ask myself each day, why are they not seeing any of the most important factors and realizing how important it is they "get it right," very fast, because time is running out and this is about their very "souls" as to where they will spend eternity!!!  What can be more important than that; certainly not some imbecilic goings-on here on the net all day and night!
Sister Kathleen as many painfully know I'm a man of many words but the good news is out of all these words "you" put it all in a "NUTSHELL," when you mentioned the Great Lie!
Your words were PERFECT CRYSTALLINE WORDS OF GREAT WISDOM!  They are words with the proper meaning coming from the whole TRUTH and nothing but THE TRUTH!
I truly appreciate your insight, especially when you explained how this world is plagued with deceptive brainwashing techniques being employed by our own MSM and others who are in unison with the master of all lies! How their words do not come from God!
A priest friend of mine mentioned the AGENDA several years ago which you remind me of in your pointing out this truth. This madness and debauchery is being precisely calculated and orchestrated throughout the Mass Media to "divide and conquer," the old original top plan of Satan's, that has never changed one bit and now is coming into its own being exponentially implemented on digital steroids!  His plan always attempts to counter God Almighty's; which is only to snatch all the souls he can from God, but mind you they must be willing participants with the Devil, and so many truly are!  This is so utterly sad and horrific, but, also ultimately serves as fair warning how much jeopardy all of us are in; and that we need to get our acts together PRONTO; the time to do so is practically passed away!
Look at the government leaders in their deluded and wicked stature wielding earthly powers government against government and people against people of and by the Devil; while yet they run slipshod over the Truth and condemn themselves by these actions not being saved; because all will be held to account eventually at the judgment!  They are screwed, so that is something to be worried about and fear; not only for them but for us who could screw-up just as badly if we don't remain vigilant and tow the line or keep our own affairs in order, so as not to follow these corrupted leaders as millions of citizens are exactly doing; and will, straight into hell!  Salvation isn't some given and we just show up at the judgment and all will be good for all, because Jesus did all the work, and we are already saved!  We're not already saved!  If that were the case then we all should have a devil may care attitude and sin all we want and go for the gusto of this world like many are; then later God will understand and cut us all the slack we need, because we all share in the redemption and salvation to live in His glory and be in bliss; doesn't matter what sins or how many we made; it's all good in the end!  If that were the case then why continue with this charade and just cancel the whole mess we are in, and even the Devil will be forgiven, because Sin will be no more; and Nobody is held accountable.  That is called "Devil may care" and very much the mind-set of many people today in the secular thinking lifestyle of accepting the "Culture of Death!" "Ways of the World" and the "Devil's Way!"
I repeat here what I recently wrote.
We all do need to fear judgment because not all are going to be forgiven, and we don't know absolutely for sure who will be or who won't be; and there is rightly no way anyone but God can know that!  We are not home until we are home; so pretending won't cut the mustard!  Though the faith the size of a mustard seed can save us that faith has to be genuine and according to the prescribed teachings that Jesus provided to the Apostles during the "Last Supper the actual Mass before the Sacrifice of Him the Lamb of God," His body and blood that were going to be shed in order to redeem our souls from eternal damnation.  Dismas on the cross next to Jesus did not assume for one second that he could or would be saved, but told Jesus right there next to Him that He didn't deserve the suffering, condemnation and punishment He was "believing" because he could see Jesus was great, good and innocent not some criminal, they of this corrupt world made Him out to be, but that he Dismas certainly did deserve and accept his own failure and punishment with all that comes with it, asking only that Jesus please "remember me when you are in your Kingdom." Everything I said to this point here came to me by inspired thought; as I was reaching out to Jesus Christ to send the Holy Spirit from our Father in heaven. Then suddenly because I wanted to be certain about Saint Dismas in what I type here I immediately came to this when I performed an online search about Dismas.  God wanted me to speak about Dismas and this proves it.  Some of these following words were going through my mind exactly as they are printed on this page just before I did the search!
Now please hear me here.
This was faith the size of a mustard seed by a real sinner/criminal who was paying the price for his SINS. But that faith was absolutely Real and Genuine beyond any doubt not some yackety-yak that anyone can shoot off, but from a man that was done for and knew it for his heathen sinful life, while on a Crucifixion cross, the worst way to be put to death and was totally unassuming while apologetic an accepting of the truth he had failed, and was in great grief, fear and sorrow; feeling hopeless. But he was surely "respecting and honoring Jesus" for His beauty and purity of heart and great good! In this case most assuredly on more than bent knee!  This is a most very serious fine line business that will separate the Sheep from the Goats and there will be plenty of both nothing in-between.  Only God can judge that perfectly and know in the end who belongs to Him!
Romans 14:11-12  It is written: "As surely as I live, says the Lord, every knee will bow before Me; every tongue will confess to God." 12So then, each of us will give an account of himself to God".…
The first thing the repentant thief does is not get deceived by all this TALK of the UNBELIEVERS or FAKERS all around them. As the primary example the other crucified thief!
"Gestas is also known by such names as the "bad thief", the "unrepentant thief" and the "blasphemous thief". Gestas was crucified on the left of Christ. Unlike Dismas, Gestas did not recognise Christ as the Saviour and did not repent of his misdeeds. He only wanted to be saved from his sufferings on the cross." (religionwikia.org)
Sounds to me just like Biden the FAKE Catholic or for that matter Christian; who will already go down as the one President who appropriated the most billions of dollars to kill human babies slumbering in their mothers' wombs!
"But he rebuked him saying, 'Do you not fear God?" This is the second thing about this penitent thief Dismas: he feared God. God was real to him. God was his creator, and he knew that a pot can't take up arms against the potter and come away victorious. It is fitting that creatures bow in submission before their creator and subject all their life to his wisdom. It is even more fitting that sinful creatures bow before God in holy fear, instead of railing against God as if a rebel ant should kick against the foothills of Mt. Everest and demand that it flatten out so the ant can walk across."
Third, the penitent thief admitted that he had done wrong: "We are receiving the due reward of our deeds" (v. 41). He had no desire to save face any more; he had no more will to assert himself. He was here and laid open before the God he feared and there was no way to hide his guilt. I know people right now who are in trouble. But instead of laying down their self-righteous defenses, they are devising every means to finagle and distort so as to appear innocent and cool. The penitent thief gave it up. It's a hopeless tack, anyway, before an all-knowing God!"
"We are under the sentence of condemnation justly." This is the real test of humility before God. Many will mouth the confession of sin: "God be merciful to us miserable sinners," but when some trouble comes, they get angry at him. And this anger reveals that they do not really feel undeserving before God. They still feel, deep down, that they have some rights before God. There are not many people like Job, who, when he lost everything, said: "Naked I came from my mother's womb and naked shall I return; the Lord gave and the Lord has taken away; blessed be the name of the Lord." But this penitent thief did become like Job in the last minutes of his life—he took his suffering without complaint, and feared God."
Fifth, the thief acknowledged Jesus' righteousness: "This man had done nothing wrong." It didn't make any difference to the first thief if Jesus was right or wrong. If he could drive the get-away car—that's all that mattered. But it matters a lot to Jesus if we think his life was good or bad. Jesus does not want to drive a get-away car; he wants to be followed because we admire him. We must say with the thief: "This man has done nothing wrong." This man only does what is good. This man only speaks the truth. This man is worthy of our faith and allegiance and imitation."
"And then, sixth, the thief goes a step further and acknowledges that indeed, Jesus is a king. "Remember me when you come into your kingdom." Even though he is suffering now, Jesus has the mark of a king. For those who have eyes to see, he has a power here on the cross—a power of love that makes him king over all his tormentors. He is not only good, he is powerful, and one day he will vindicate his great name, and every knee will bow and confess that Jesus is Lord—to the glory of God, the Father."
Once again; "And finally, the penitent thief does one more thing. He fears God, admits wrong, accepts justice, acknowledges the goodness and power of Jesus. Now he pleads for help. "Jesus, remember when you come into your kingdom." Both thieves wanted to be saved from death. But O how differently they sought their salvation: 1) "Are you not the Christ? Save yourself and us!" 2) "Jesus, remember when you come into your kingdom!" There is an infinite qualitative difference between "Save me!" and "Save me!" desiringgod.org
Jesus answered, "The Scriptures also say, 'Don't try to test the Lord your God!'"  Matthew 4:7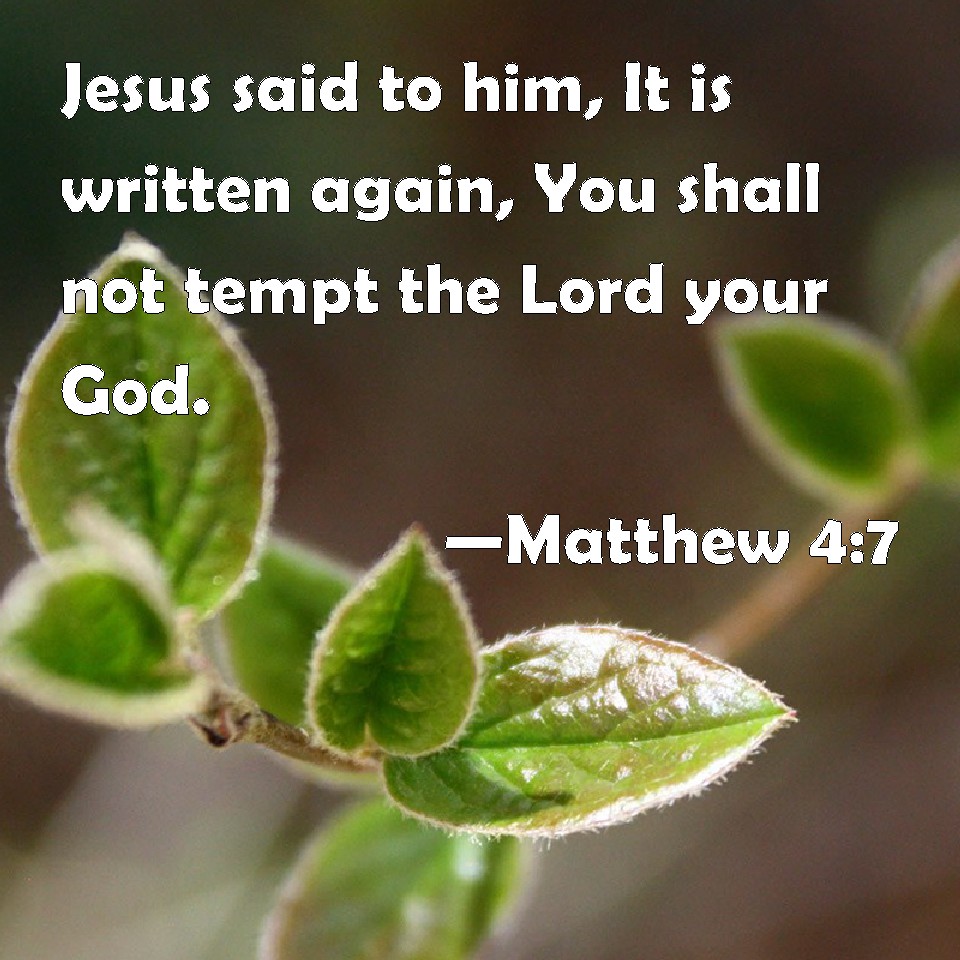 No we must not; I will keep this Scripture right up front in my consciousness and act accordingly. Amen.
"Therefore, my beloved, as you have always obeyed, so now, not only as in my presence but much more in my absence, work out your own salvation with fear and trembling, for it is God who works in you, both to will and to work for his good pleasure." (Philippians 2:12-13)
God bless you.
Brother in Christ Jesus,
Lawrence Morra III
Here I point out I read all of these words over again now and when I came to these I started to cry.
"This man has done nothing wrong." This man only does what is good. This man only speaks the truth. This man is worthy of our faith and allegiance and imitation."
"And then, sixth, the thief goes a step further and acknowledges that indeed, Jesus is a king. "Remember me when you come into your kingdom."
Amen.