Selfish Pride-the downfall of mankind
Robotic Humans increasing exponentially-Looker, Manchurian Candidates, Automatons.
"Are people becoming GMO beings far removed and altered from the original genuine article?"
Look around and see how odd and crazy human civilization has become. Why is this happening? Is it just an accident and inevitable consequence of an evil out of control-controlled chaos, or could it be that forces which are invisible to our tactile senses are working unseen against us manipulating and altering our patterns of behavior and our very thinking processes. These unseen enemies; that toy with us day and night if we are weak or not focused on what the actual truth and reason for our being here actually is.
Are people becoming GMO beings far removed and altered from the original genuine article? Fake news, fake friendships and love, as people now are always taking and making sure they get what they want and not caring about what they don't give.
Now even mRNA so called gene therapy that is altering mankind!
Where is the "humanity and love," genuine unadulterated love, first of all for each other that has no strings attached and is unconditional; but, more importantly where is the love of God who gave us a chance to exist and be part of something that is unimaginable and so perfectly complete, full of joy, happiness, peace and tranquility forever. I wonder how many people actually think about this each and every day while simultaneously thanking God upon waking each new day for another opportunity to attain that most precious reward; saying it and meaning it. To be only intent on doing God's will not their own flawed selfish desires!
Artificial has become a major component in the modern scheme of things now; as we the people that make artificial things are turning into artificial beings. Why are imperfect corrupted humans making artificial intelligence when we can't even live well enough among ourselves or fix our own tragic defects; why would we even begin to think like a madman Bill Gates that we can build some intelligent being; and for what purpose to make the world more chaotic? Have we been working so diligently to find out why people don't all get along, and love each other or how to fix that problem that is apparently inherent in us since Cain slew his own brother Abel? I'll put myself at the plate swinging the bat and tell you exactly who wants us to do these things causing some to think we are so wise and capable enough to make some new intelligent beings that will be working within the digital cloud; Satan is the one and only reason or motivator in this story.
Films have brushed on this topic such as "Looker" a 1981 release which "draws parallels between time wastage, virtual comatose states, and the anesthetizing, stultifying effects of television." James Coburn plays John Reston, the wealthy head of a conglomerate with a sinister scheme involving murder in "Looker" which really sounds just like today's big tech firms and the sorts of creepy dudes like Bill Gates that run them! And this was before we could consider what the World Wide Web and computers or even hand held devises would do to our minds; as to what short and long term effects they would have, and here we are in the thick of it!
Subliminal effectuation of people's minds or a kind of group hypnosis is a concept that's been around for a long time and we could say that all forms of propaganda play into this methodology of altering the minds of populations in a sense a prodding them like cattle or sheep to move and go where the directors or controllers want them to. This is what's been happening in societies around the globe in earnest for the last couple of decades a preparation if you will for New World Order making the masses totally subservient to the ruling class and stripping them of any real rights; be they Constitutional or human. One only look at the totalitarian state control of China with its Chinese Communist Party the sole governing political party of the People's Republic of China had its origins in the May Fourth Movement of 1919, during which radical Western ideologies like Marxism and anarchism gained traction among Chinese intellectuals. Other influences stemming from the Bolshevik revolution and Marxist theory inspired the Communist Party of China. Li Dazhao was the first leading Chinese intellectual who publicly supported Leninism and world revolution or in other words world conquest and control.
But the major development in our time-frame now is the advent of digital technologies and artificial intelligence which has changed the playing field exponentially for the worst giving this ideology and its fabricators up till now unheard of or imagined capability of proliferation and dominance in an extremely rapidly changing global geopolitical forum that is changing radically and will build to an earth shattering crescendo in the very near future as the game plan is already in play and even here in the USA many internal operatives who are so called Americans and leaders are busy grooming the public for the transitional shift in policies and standards that will be make and break for everyone but mostly break for the masses and top of the mountain for all of the elitist globalist rulers. We can already see this evolving with outright criminal behavior on the part of our government leaders as they wheel and deal globally selling their political clout and power to influence among other leaders as they damn we the people to the dust and suffering to come while they enrich themselves and their family members or cronies becoming billionaire bloated pigs like the Pelosi family or Biden's as just two examples amid a sea of corrupt politicians who really aren't but are rather members of an elite legalized crime family syndicate. Make no mistake about it they are gangsters or racketeers and they never had your best interests in mind but only their own. This actually has become part and parcel the way of living in the old dog eat dog idea, as now our society is very ill and beyond life support to save it spiraling out of control toward the cataclysmic precipice to annihilation. Look around as you play on the world wide web, the spiders web that we are all affixed to now whether you want to admit it or not, you are being consumed with it every day and some people show clear signs of being predators looking to exploit others whether it be just to get likes or to actually rip them off and steal their advantages or following. Then turn to the fact of the riots and mayhem in major cities across the nation and see the mob chaos as an example just the other day in NYC a group of mostly people of color all gang jumped and beat the tar out of a tall white man in the middle of traffic on a street like they were all insects in a swarm like behavior trying to bite and sting their quarry into submission and kill him. These to me were brainless flesh beings or they had to be driven by some form of programming in their limited minds because the only other possibility is they are being influenced by invisible demonic forces from hell. Is this the beginning of the zombie apocalypse or the anarchy that the globalists are fueling and promoting in all the ways they can to bring on chaos to then usher in the massive crushing control by brute NAZI like force upon all of us not just locking-down for a pandemic, but, instead taking over our lives, as in now you're a prisoner and you don't do anything unless we tell you to!
Don't you see that we are already there and it's been a subtle take over and mastermind plot, but, it took this massive turn last winter and spring because those puppeteers who were metering out this propaganda control saw that a few smaller groups of powerful people like Trump and his allies said no way hold the phone this isn't happening if we can't take you down in court we will open the floodgate of anarchy, so both sides are now in a fever pitch confrontation which isn't going to end pretty and either the good rises to the occasion and steps up to the plate to do what it takes to stop the devils or they will have us all by the balls in short order, you will hate your life then I assure you.
Many will want to die and will commit suicide it will be that unhappy and unbearable to take. There was a movie back in the 80's Looker which revolved around some corporate and an added note here is we all know how devious big Pharma is with their massive brainwashing television adds; but these corporate characters that had a sinister mind control device in this story that with flashes of light had a hypnotic effect on the person it was directed at altering their perceptions and thinking. Today we have microwave energy beam technology which is just a different portion of the electromagnetic spectrum and not the visible light spectrum this "Looker device employed," but, sending out signals to prepped individuals with sort of robotic digital data to control actions and behaviors is here now.
And, with all of the propaganda or even our foods being manipulated genetically and chemically to alter our brainwaves don't you see how easy this plan of attack is and how we are all victims now and even potential zombies. The police and citizen violence that seems to pop up and get out of control couldn't this be a planned manipulation to trigger hostilities and get the masses to do just what they did with the Floyd case who actually was a brute thug drug addict and criminal who got what he was asking for by living the way he did, "live by the sword die by he sword," then in the scuffle he resisted the police pushing his luck and the cops are dealing with these characters day in and day out getting fed up and tired too putting their lives on the line to protect and even more ungrateful society each passing month, so it won't take much to set off a massive firestorm with such a dry tinder box sort of condition where all that is needed is a spark and you have an inferno which is what happened and over what? One black man thug died, so that really warranted burning cities down and killing innocent people in the process; but, do people flip out and burn cities anytime you heard about, when full term human babies are snuffed out day of delivery? No; because that isn't part of any nefarious program or plan by the puppeteers and you know it. Did Floyd, BLM, ANTIFA and all the citizens that were out of control after Floyd brought on his own demise, did any of them ever go screaming bloody murder or even having a so called peaceful protest when Full Term Day of Delivery Murder of unwanted human babies happens day in and day out? The answer you realize is unequivocally NO! None of those derelicts have a modicum of respect or pity for the little innocent babies; so I have ZERO for them as they are a damned lot and sentenced to damnation by their own voices or lack thereof, along with their obvious unjust actions, which they have condemned themselves by! They're only interested in mayhem and power, while playing political agendas! By the way, another added sidebar note here is China is the biggest baby snuffer going and actually delivered ones, born but not males or having what's seen as other defect, and, this kind of genocide of human babies to this degree hasn't been seen since ancient times which actually pales in comparison; when for example during the time of Moses Pharaoh Ramesses of Egypt ordered all male newborn babies to be killed or King Herod the Great of Judea did, ordering that all babies two years of age or less be disposed of.
"The King Herod that is mentioned in the book of Matthew (Matthew 2) was made king of Judea by the Romans in 37 B.C. He died in 1 B.C. History is not very kind to Herod as it records many of his atrocities including the killing of babies. It is well established in secular writings that Herod murdered the old and young and did not even spare his wives. Herod murdered many people. He was a bloody man. Matthew 2:16 also reports he was a murderous man. Then when Herod saw that he had been tricked by the magi, he became very enraged, and sent and slew all the male children who were in Bethlehem and all its vicinity, from two years old and under, according to the time which he had determined from the magi. Matthew 2:16 (NASB)
Everett Ferguson is a reliable author who writes the following. Though it may be true that Herod was an extremely able ruler, it is also true that he was intensely jealous of his position. He killed the two sons of Mariamne when his suspicions were aroused that they might become the rallying point for Jewish patriotism. Mariamne herself was killed when his mind was poisoned against her by his sister. . . A man who killed a large part of his own family and arrested large numbers of the most prominent citizens with orders for their execution when he died so there would be mourning at his death (Josephus. Antiquities of the Jews. 17.6.5) . . . would not have caused much of a stir by liquidating a score of children in an obscure village. Knowing of Herod's conduct and the Jewish scruples about pork, the emperor Augustus was reported to have said that he would rather be Herod's very pig than Herod's son. [1]
The Jewish historian Flavius Josephus describes King Herod the Great as a very evil man.
[Herod] commanded that all the principal men of the entire Jewish nation wheresoever they lived, should be called to him. Accordingly, there were a great number that came, because the whole nation was called, and all men heard of this call, and death was the penalty of such as should despise the epistles that were sent to call them. And now the king was in a wild rage against them all, the innocent as well as those that had afforded him ground for accusations; and when they were come, he ordered them all to be shut up in the hippodrome, and sent for his sister Salome, and her husband Alexas, and spoke thus to them: — "I shall die in a little time, so great are my pains; which death ought to be cheerfully borne, and to be welcomed by all men; but what principally troubles me is this, that I shall die without being lamented, and without such mourning as men usually expect at a king's death." For that he was not unacquainted with the temper of the Jews, that his death would be a thing very desirable, and exceedingly acceptable to them; because during his lifetime they were ready to revolt from him, and to abuse the donations he had dedicated to God: that it therefore was their business to resolve to afford him some alleviation of his great sorrows on this occasion; for that, if they do not refuse him their consent in what he desires, he shall have a great mourning at his funeral, and such as never any king had before him; for then the whole nation would mourn from their very soul, which otherwise would be done in sport and mockery only. He desired therefore that as soon as they see he hath given up the ghost, they shall place soldiers round the hippodrome, while they do not know that he is dead; and that they shall not declare his death to the multitude till this is done, but that they shall give orders to have those that are in custody shot with their darts; and that this slaughter of them all will cause that he shall not miss to rejoice on a double account; that as he is dying, they will make him secure that his will shall be executed in what he charges them to do; and that he shall have the honor of a memorable mourning at his funeral. [2]
These quotes help us understand that King Herod the Great was wicked. So we should not be surprised that a non-Christian wrote the following about Herod's massacre of children under the age of two that is mentioned in Matthew 2:16. The non-Christian writer is Macrobius (A.D. 395-423).
On hearing that the son of Herod, king of the Jews, had been slain when Herod ordered that all boys in Syria under the age of two to be killed, Augustus said, "It's better to be Herod's pig, than his son" (dicta 56 Malc.)[3]
Conclusion:
We can thank God that there is a secular reference to Herod's massacre of the children under the age of two. History does not record every event found in the Bible. In truth, we do not need secular history to validate the Bible. We often forget that the Bible is accurate history. But many people do not want to accept the Bible as history because they would then need to submit to its authority. It is the Word of God." (neverthirsty.org/bible-qa/qa-archives)
All of which should give you a clue to what the world will be like under such totalitarian control when truly evil men rule over we people with total earthly power and control over we humans who are spurned by Satan who directly influences such antichrist blood thirsty men. And, if leaders or governments can do such things to babies who are innocent and pure what do you think the value of your life will be to them if they can't use you for something, as say a slave or some guinea pig to experiment on; like the Hitler Nazis did during WWII? We are all being played with and screwed over, being prepped for a future of utter control and DEATH; the babies are the canaries in the mine shaft warning in this modern era; those innocent little martyrs that God tells us with His words in Holy Scriptures; how in the End Time many of the innocent will be Martyred!
Another film based on a great novel and even some actual past events is the Manchurian Candidate which again delves into, the realm of mind control and basically hypnotizing individuals and planting thought patterns or even actual orders in their subconscious minds to be acted out at a precise time and place, their marching orders if you will.
Making automatons out of human beings so they carry out an order to assassinate or blow up some building, and, even fly airplanes into buildings. All that is needed in this scenario is the kidnapping of these individuals whereby they are then carefully programmed, with today's technology even having nanotechnology implanted in them before anyone knows they are missing and release them; to let them go through the motions of their daily lives like they don't have a care in the world until that precise trigger moment comes when they act like some instinctual wild animal and the predator is released to carry out a deadly act, or even some political decision, and perhaps just adds the final vote to deploy troops or shut down the Nation declaring Martial Law, and then, totalitarian control is established overnight.
But, where is this going you may ask and it's a pretty obvious destination once you look at man's lack or the stumbling block that has continually tripped up the human race from the beginning. Where is the "humanity and love," genuine unadulterated love, first of all for each other that has no strings attached and is unconditional; but, more importantly where is the love of God who gave us a chance to exist and be part of something that is unimaginable and so perfectly complete, full of joy, happiness, peace and tranquility forever. I wonder how many people actually think about this each and every day while simultaneously thanking God upon waking each new day for another opportunity to attain that most precious reward; saying it and meaning it. It looks to me like too many people aren't doing that and whatever they are looking for it's either the wrong thing, or they are certainly looking in all the wrong places.
What are we to do and can we do anything about all this? You bet your bottom dollar and the power to do it is right inside you! Save your soul and turn to God Almighty on humble bent-knee asking for His forgiveness and all powerful loving help! You see all these people star athletes, politicians and others these days taking a knee but they are antichrist and kneeling or submitting to an evil worldly power and prestige offering themselves up to perdition and damnation! We see the results of BLM and ANTIFA along with these take a knee fakers and takers like Kaepernick or mayor DeBlasio and Congresswoman Pelosi to name a few; nothing but ruin and hate, they are just self-glory mongers filled with evil as they serve the beast. If you resist all that and turn to Jesus Christ on your knees in all humility He is not going to let you down ever, you have to believe that! With Him you can face whatever will come. He awaits your answer! God bless you. Amen.
Lawrence Morra
I was inspired to republish this previous article that I first wrote back on September 12, 2020. While I was contemplating doing this I came upon a Pew Research Center report that I realized immediately cut to the chase of the what and why I'm so motivated to speak out to what I see going on all-around me and the entire planet as to what the cause of so much degradation is. The answer to that burning question should be and is quite obvious to those individuals who are living their lives in accordance with God's word contained in the Holy Bible! Here in America this truth should be causing such a burning remorse because the forebears who knew what they were talking about when it came to living under tyranny were solely motivated to establish this New Republic under God being directly motivated to do it by God Himself; to allow God to raise up this Nation where Freedom would ring throughout for all of its people! Thus becoming a Nation of The People, by The People and for The People; truly a Nation under God on earth!
The Bible warns that many would be walking away from their faith in the End Time and I believe like the "canary in the cage" having been the "warning sign" of noxious poisonous gas arising in the mining operations of past generations; so as to warn the workers before they were overtaken by the poisonous gas to flee! So too we now are seeing the "warning instrument" of America being such "a barometer of pending change" which is taking place at "an alarming rate," which is to warn the faithful to not slip under the spell too!
1 Timothy 4:1-2 "The Spirit clearly says that in later times some will abandon the faith and follow deceiving spirits and things taught by demons. Such teachings come through hypocritical liars, whose consciences have been seared as with a hot iron."
Here is a portion of the report from the Pew along with the link to the entire report, which I suggest you review and pass it along to anyone who will read it.
If recent trends in religious switching continue, Christians could make up less than half of the U.S. population within a few decades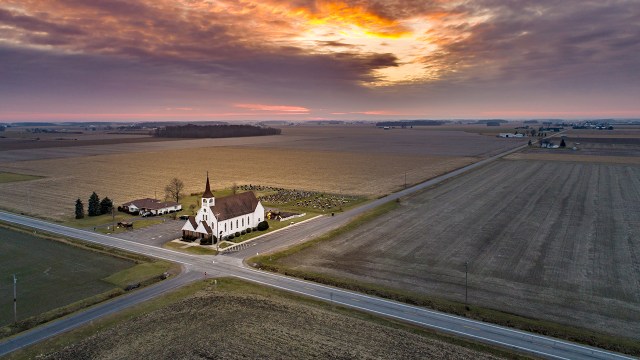 "The Center estimates that in 2020, about 64% of Americans, including children, were Christian. People who are religiously unaffiliated, sometimes called religious "nones," accounted for 30% of the U.S. population. Adherents of all other religions – including Jews, Muslims, Hindus and Buddhists – totaled about 6%.1
Depending on whether religious switching continues at recent rates, speeds up or stops entirely, the projections show Christians of all ages shrinking from 64% to between a little more than half (54%) and just above one-third (35%) of all Americans by 2070. Over that same period, "nones" would rise from the current 30% to somewhere between 34% and 52% of the U.S. population."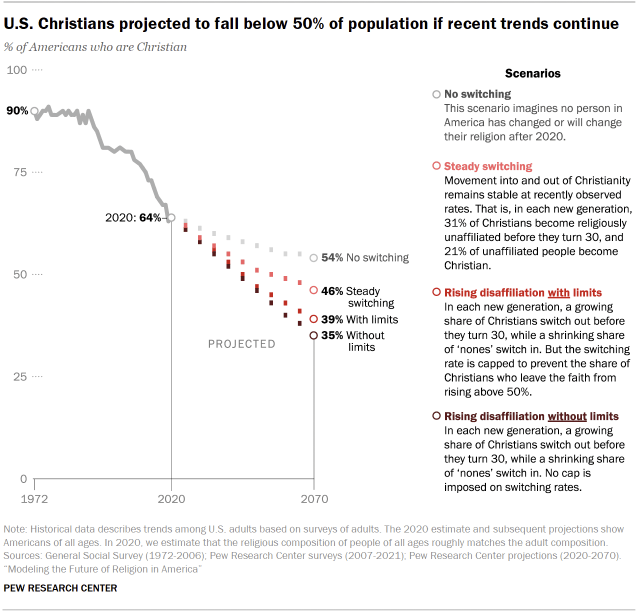 "Of course, it is possible that events outside the study's model – such as war, economic depression, climate crisis, changing immigration patterns or religious innovations – could reverse current religious switching trends, leading to a revival of Christianity in the United States. But there are no current switching patterns in the U.S. that can be factored into the mathematical models to project such a result."
Modeling the Future of Religion in America
For me the most telling sign or harbinger of the calamity that lies just ahead not only for America but for the entire human race is the degree of increase in the lack of genuine humanity and the exponential increase in a materialistic self-serving mindset.
Selflessness is Devoid of Selfishness = Saint
Thomas Paine
Writer, Revolutionary leader
"The cause of America is in a great measure the cause of all mankind. Where, say some, is the king of America? I'll tell you, friend, He reigns above."
1776, Common Sense
John Adams
Second President of the US
"We have no government armed in power capable of contending in human passions unbridled by morality and religion. Our constitution was made only for a moral and religious people. It is wholly inadequate for the government of any other."
1798, Address to the militia of Massachusetts
Benjamin Franklin
Constitutional Convention Delegate and signer of the Constitution and Declaration of Independence
"I have lived, a long time, and the longer I live, the more convincing proofs I see of this truth — that God Governs in the affairs of men. And if a sparrow cannot fall to the ground without His notice, is it probable that an empire can rise without His aid?"
July 28, 1787, Address at the Constitutional Convention
These United States of America Founded under God part II
Fair Use
This site contains copyrighted material the use of which has not always been specifically authorized by the copyright owner. We are making such material available in our efforts to advance understanding of environmental, political, human rights, economic, democracy, scientific, and social justice issues, etc. We believe this constitutes a 'fair use' of any such copyrighted material as provided for in section 107 of the US Copyright Law. In accordance with Title 17 U.S.C. Section 107, the material on this site is distributed without profit to those who have expressed a prior interest in receiving the included information for research and educational purposes. For more info go to: http://www.law.cornell.edu/uscode/17/107.shtml. If you wish to use copyrighted material from this site for purposes of your own that go beyond 'fair use', you must obtain permission from the copyright owner.