Fauci Conspires With China To Conceal Key Facts
Republication by: Lawrence  Morra III
Zero Lift-Off     Only The Beginning
For informational sharing purpose only on this platform.
June 2, 2021
I think we're all feeling like we've been walking alone in some dark tunnel for over a year now with all the madness, lock-down isolation, mask covered faces and, social distancing, death, destruction and mayhem around the globe due to the sinister acts by some extremely nefarious persons on this planet!  No doubt there are some horrible hombres overseas and namely in China, but, we have some of the worst on the planet here in the good old US of A who are working right in our Federal Government with many of their cronies in many Blue States kowtowing as needed to maintain the Agenda! 
I've written for over a year how I saw through so many of the lies and deception set in motion by the evil Swamp in Washington and now the the deep darkest of secrets are beginning to surface exposing the diabolical corruption that's been at work 24/7 seeking to ruin and destroy anything held sacred and of any value at all here in this Republic under God!  I can't say for sure how things will ultimately turn out but I know their is going to be a heavy price to pay by certain individuals absolutely as I breath and the sun will rise tomorrow; whether they pay the ultimate price here on earth before their coming demise or if justice will be forestalled somehow until they meet our maker, because in the end that is only what really matters anyway! 
These diabolical persons are going down for the count no two ways about it!  We can rest assuured that Adolph Hitler and Joseph Mengele the Nazi Angel of Death with many others like them are in eternal damnation; but these current practitioners of debauchery are going to be some new company joining those past monsters in the nether region of sheer unquenchable misery and darkness!
Keep the faith and hang in knowing that Jesus Christ love you and wants all  of us to succeed in not falling prey to the twisted and corrupted ways of this world and has the most happy and blissful ending for any of s who will believe and follow Him! 
God bless you.
Amen.
Lawrence Morra III
More than a year after the global coronavirus pandemic struck, questions have yet to be answered as to what exactly happened and where. Dr. Anthony Fauci has played in a key role in downplaying the possibility that the virus originated in the Wuhan Institute of Virology — and now we know why.
Emails between Fuaci and a key Wuhan scientists have leaked, and it's not looking good for "America's Doctor."
In the emails, the Wuhan researcher, and president of EcoHealth Alliance (the corporation in which Fauci funneled taxpayer money to Wuhan), Peter Daszak, personally thanked Fauci for dismissing lab leak theories in the media even though the likelihood is high of that being the case.
Dr. Fauci began publicly dismissing the theory that the COVID-19 pandemic began due to an accident at the Wuhan Institute of Virology (WIV) in April of last year. Around that time, the NIH, under Fauci's tutelage, funneled through EcoHealth Alliance, granted Daszak and the Wuhan lab a nearly-$1million grant for gain-of-function research – a claim Fauci denies but is later proven in leaked emails.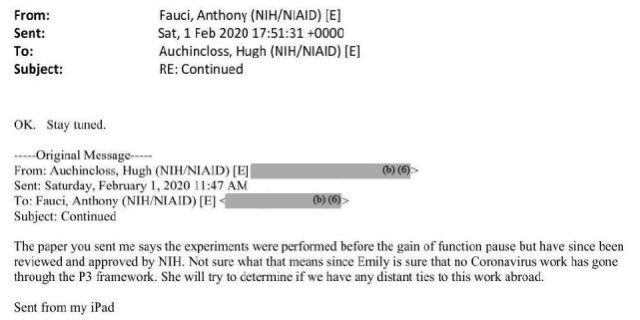 Daszak personally thanked Dr. Fauci and his collaborators for downplaying the Wuhan theory in the press. Fauci replied in April 2020, thanking Daszak for his "kind note." Earlier that same day during a coronavirus press briefiing, Fauci was asked directly about the lab leak theory. His response?
"Scientific evidence is totally inconsistent with the so-called lab leak theory. However, the data concludes that the virus jumped from animal to human, likely from bats to humans."
Too bad for Fauci, however, his emails to Daszak prove that he conspired with Wuhan to do just that – downplay the possibility that the animal-to-human jump theory was scientifically sound – not the lab leak "conspiracy."
Unusual exemption in the Peter Daszak thank you email to Fauci. FOIA exemption (b)(7)(A) applies to "records or information compiled for law enforcement purposes, but only to the extent that production… could reasonably be expected to interfere with enforcement proceedings."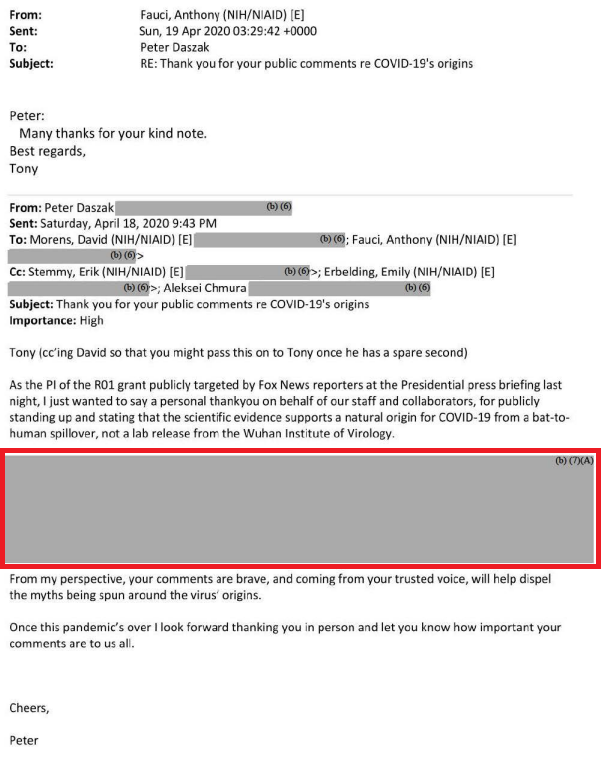 Fauci has since publicly shifted his tone, acknowledging in recent days that the virus may indeed have come from a lab. But it is clear from email exchanges with his NIH colleagues since the onset of the pandemic that he never wanted to lab leak theory to gain any momentum.
An April 2020 email from NIH Director Francis Collins to Fauci under the subject line: Conspiracy gains momentum. The email included a link to an article about Brett Baier saying on FOX News that covid outbreak started in Wuhan lab. Fauci's response is redacted.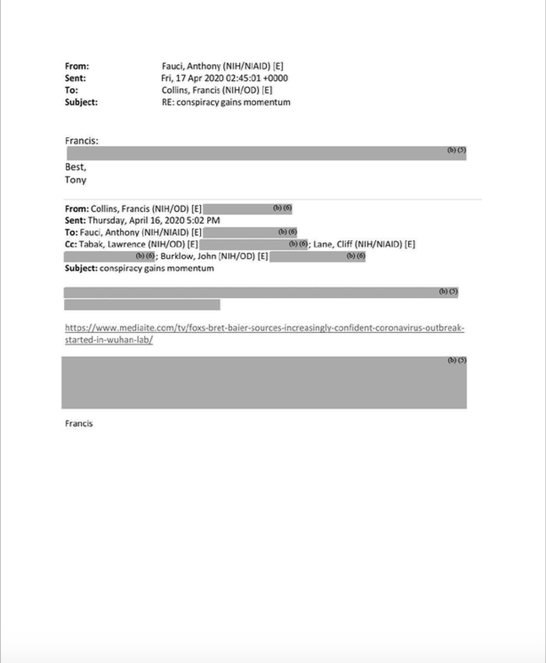 Here's a Feb 21, 2020 email to Fauci from a Weill Cornell Medical College associate professor of dermatology who wrote: "we think that there is a possibility that the virus was released from a lab in wuhan, the biotech area of china" Fauci fwds to a colleague: "please handle"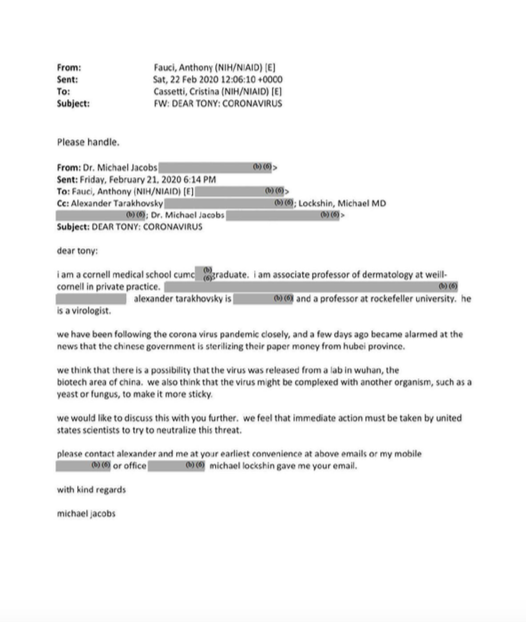 Additionally, many recommendations were made to Fauci as to how to handle the outbreak of COVID-19. One colleague even made the common sense suggestion to isolate the vulnerable 60+ crowd in order to limit social unrest. In the email exchange, Fauci balks at this suggestion.
Additionally, many recommendations were made to Fauci as to how to handle the outbreak of COVID-19. One colleague even made the common sense suggestion to isolate the vulnerable 60+ crowd in order to limit social unrest. In the email exchange, Fauci balks at this suggestion.
Even as recently as February 2020 Dr. Fauci was privately admitting the truth about widespread mask wearing. In another email exchange he revealed masks "are really just for infected people to stop the spread of infection…"
Meanwhile, he and the Biden administration, and largely the entire Democrat Party, have hounded uninfected Americans about mask wearing – even issuing criminal penalties for failing to do so. This is an obstruction in the rule of law not seen since Watergate.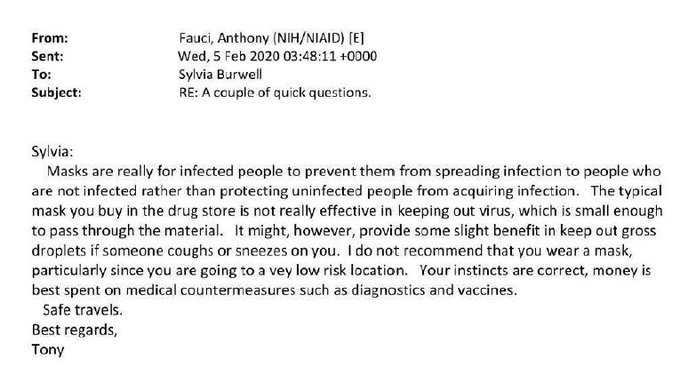 Fauci's role in government (as the highest paid federal employee) must immediately come to an end after the revelations laid before the American people in these emails. He's shown that integrity, honesty, and transparency are not top on his list. Instead, "America's Doctor" has slapped the American people over the face with criminal medical malfeasance that's resulted in the loss of life, business, and a prosperous future.
Author: Asa McCue
2021 The Bearded Patriot. All Rights Reserved.
Fair Use
This site contains copyrighted material the use of which has not always been specifically authorized by the copyright owner. We are making such material available in our efforts to advance understanding of environmental, political, human rights, economic, democracy, scientific, and social justice issues, etc. We believe this constitutes a 'fair use' of any such copyrighted material as provided for in section 107 of the US Copyright Law. In accordance with Title 17 U.S.C. Section 107, the material on this site is distributed without profit to those who have expressed a prior interest in receiving the included information for research and educational purposes. For more info go to: http://www.law.cornell.edu/uscode/17/107.shtml. If you wish to use copyrighted material from this site for purposes of your own that go beyond 'fair use', you must obtain permission from the copyright owner. LM