The Traitor must and will go down in flames!
No Politician in American history has ever dug himself a pit as deep and inescapable as this maniac has!
The clock is ticking and he will take a licking sooner rather than later!
The Most Revolutionary Act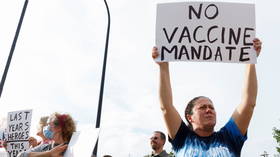 RT
US President Joe Biden's just-announced plan to force Covid-19 vaccinations by having federal regulators mandate it for businesses under threat of fines is already being denounced as illegal by critics, who are urging resistance.
As part of a six-prong "Path out of the Pandemic" first announced by the White House on Thursday, the Occupational Safety and Health Administration (OSHA) and the Department of Labor will enact a rule mandating vaccinations for businesses with 100 or more employees. Biden is also requiring all federal employees and anyone contracting with the government – more than 2.5 million people – to be vaccinated, or else.
MSNBC host Stephanie Ruhle described the tactic as "the ultimate work-around" for the government to require vaccinations. Republican lawmakers and pundits, however, immediately denounced it as "illegal" and "unconstitutional," with some urging private companies to resist and rebel.

"This is absolutely unconstitutional," tweeted Representative Thomas Massie (R-Kentucky)…
View original post 614 more words