Republication by: Lawrence Morra III
Zero Lift-Off  Only The Beginning
For informational and sharing purposes on this platform only.
September 9, 2021
Now this former Planned Parenthood Director steps out from the darkest shadow being produced by the darkest agenda of modern times from hell which has been the industrial scale wholesale abortion of human beings and truth be known human babies are being sacrificed through abortion for Satan!
Many evil practices and diabolical uses of the human babies are being carried out that would make you breakdown and cry if you actually knew the total truth let alone see the results; and the wicked leftist, globalist corporate media don't tell you diddly-squat; they fill your head with no-mind pagan sensationalism and basic turd diet to make good little minions out of you for the beast!
Listening to this lady who was engrossed in the abomination of abortion for so long saying how its so demonic; is great!  She also called Twitter which I did have for a couple of years but don't now, she says it's a Human Dumpster and I love that comment!  She called out all of the idiots that voted for this POS in the White House!
https://player.edifi.app/episodes/Impolite-Truth-Abortion-Is-Just-Demonic-Abby-Johnsons-Passionate-Reaction-To-Texas-Abortion-Law/4247161?ts=1631290419699
https://edifi.app/podcasts/politely-rude-with-abby-johnson-26056/
Now look at this following supposed accomplished filmmaker!
Just saw Michael Moore the Hollywood freak and former conspiracy theorist himself calling all American Christians the same as the Taliban in Afghanistan!
ANY QUESTIONS?   I SURE DON'T HAVE A SINGLE ONE FOR THIS BUFFOON!
Hey Moore you punk would you ever try telling me that to my face you slob and I know you would be on your ass in a second if you tried!  You sorry excuse for a man; Hollywood has destroyed your once artistic mind like many of the inflicted Hollywood elite, aka De Niro!  Actually I could do that but would give you a hug if I could, don't know if my arms are long enough, and tell you to go seek Jesus Christ fast!  Tell me this image isn't a human being observed through a high grade ultrasound! Anyone pushing abortion is a murderer, and YOU; are like the Taliban, punks!
This Abby Johnson is now speaking the whole Truth, calling out this most vile abomination on earth for what it really is; work of Demons and the people that have their hands involved in this are dooming themselves to the infernal pit for eternity!  She has shown I believe by an act of God that some of the horrible people doing this can turn around and fight hard now for Life and all the Unborn before it is too late!
Here is what I've said and written recently as to how quickly all of  the diabolical agendas are ramping up and coalescing to bring on the antichrist.
the Free Masons and Illuminati along with the Luciferians, and all manner of evil occult practices are thoroughly permeated into the fabric of our high-tech digital, AI networked global society, that has turned its back on Jesus Christ and thusly God the Father; with a rebellion I see as not unlike the beginning of all rebellion the germination of sin, when Lucifer with the fallen angels rebuked and transgressed God.
I see the striking clash of this present modern time mind-set so strongly contrasts the period not far back when C.S. Lewis was writing for the sake of children in some of his writings, fine works of literature, to inspire Christianity and the love of Christ in their hearts; after having lost his faith when his mother died, but later regaining it miraculously and so beautifully. Now we have people like Rowling that promote sorcery and the occult like it's a fun thing in her Harry Potter series manipulating young minds and hearts to seek fanciful worlds of magic and mysticism over seeking to know God and their actual purpose for existing. The world has played with fire for too long and now the magnitude of this folly or vanity is so massive in this Digital AI Age, that there will never be another time so ripe, not just for the communist Marxist devils of the world, but, no better a moment for the Devil himself to seize this opportunity to steal most if not all of humanity as he figures it from God; as his one final ultimate act of contempt and hatred of God!
The proverbial writing is on the wall with any number of headlines popping up daily!  This  headline was a wonderful outcry by a woman who was facilitating such evil, to now  want nothing more than to do all she can to stop abortion! But, then you and I read this story today "Bishop quits church after falling in love with satanic erotica writer," that was written by Hannah Frishberg and appeared in the  | New York Post.  So  here we see night and day contrasts of a woman who was helping to push the destruction of the Unborn which she admittedly says is Demonic, then a Catholic Church bishop tosses all of the good he was supposedly representing as a disciple of Jesus Christ to save souls into the trash to pursue a lustful relationship with a woman who writes about and promotes the diabolical! Mind you this was not just a man right out of the seminary who had an epiphany to not go ahead and be ordained as a priest; he had given his heart to Jesus Christ making the commitment but then does this; does the name Judas come to mind!  Here is what the article says.
"This church official has chosen corsets over crucibles.
A Spanish bishop, known for supporting gay conversion therapy and performing exorcisms, has left the Roman Catholic Church after becoming smitten with a writer of Satanic erotic fiction, Silvia Caballol.
"I have fallen in love and want to do things properly," said the now-ex-bishop, Xavier Novell, according to a report by BBC, which picked up the story from Spanish media outlets after the news of why Novell quit broke last month.
In addition to widespread media attention, the 52-year-old's decision has also led to much internal criticism within the church. Some of his former colleagues told the Spanish media that they believed Novell to be possessed by demons. The situation is "not a problem of celibacy but rather of infestation," one said, as reported by the National Post.
I inject here that this is exactly what I believe to be the case and have seen with my own eyes the rampant demonic infestation of people taking place near and far!  We now have a Puppet POTUS that I am convinced is not only crazy but he is effected by demons without any doubt!  The article continues with this.
Before his scandalous resignation from the church, Novell was considered one of its rising stars, having become Spain's youngest bishop in 2010 at the age of 41. His August departure reportedly shocked the religious community, although BBC reported that he had met multiple times with Vatican officials — even the Pope himself — ahead of his resignation.
Now in love but out of work, Novell is now looking for employment as a crop expert or agronomist in the Barcelona area, Religión Digital reported.
The woman he broke his vow of celibacy and commitment to Christ to be with, Silvia Caballol, is a divorced psychologist and erotic novelist whose titles include "The Hell of Gabriel's Lust" and a trilogy called "Amnesia." Caballol's work has explored themes of madness, lust, sadism, God and Satan. Her publisher describes her as a "dynamic and transgressive author [who] turns upside down our ideas of morality and ethics," according to the National Post.
Novell has admitted in previous interviews that his infatuation with Caballol is not his first: Before becoming a man of God, he fell in love with and for a time wanted to marry and have children with an 18-year-old girl. https://nypost.com/2021/09/08/bishop-quits-church-after-love-with-satanic-erotica-writer/
https://www.foxnews.com/world/bishop-quits-church-erotica-writer?utm
Three  years ago there was this over the top right in our faces  evil taking place!
Satanic Temple unveils Baphomet statue at Arkansas Capitol
By HANNAH GRABENSTEINAugust 16, 2018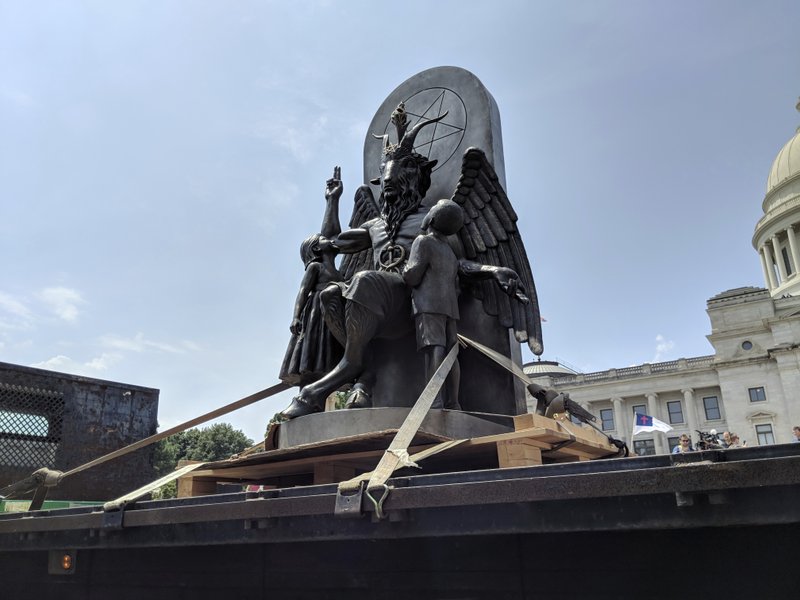 LITTLE ROCK, Ark. (AP) — The Satanic Temple unveiled its statue Thursday of a goat-headed, winged creature called Baphomet during a First Amendment rally at the Arkansas State Capitol to protest a Ten Commandments monument already on the Capitol grounds.
With Satanists, atheists and Christians among those in attendance, several speakers called for the removal of the Ten Commandments monument or for state government officials to install Baphomet as well. The Satanic Temple said the Ten Commandments monument violates constitutional freedom of religion rights and that installation of their statue will demonstrate religious tolerance. https://apnews.com/article/religion-arkansas-state-governments-1dfef6715487416eadfd08f36c7dbb4b
Freedom of religion isn't the heart of the matter at all.  As usual the communist ACLU twisted the truth because the Ten Commandments have everything to do with America which was founded on the Christian Religion and the words of our Lord Jesus Christ; not having anything to do with Satanism or even Buddhism; no other religion has anything to do with the founding principles, contained in the Bill of Rights and Constitution of these United States of America!
Now I'm adding a long descriptive  essay that I offered in a precious posting to offer this particular information to anyone interested for further contemplation, as to just how bad things really are and how the battle lines are clearly being drawn to bring on the Apocalyptic confrontation between heaven and hell!  These signs are quite evident!
Then we look at the leader of the largest Christian Church on the planet to see how off the rails and demonically influenced this character is to know full well we are in the Latter Days!
This quotation spells it out clear as a bell to me!
"For the pope, its suppression is a religious priority. The ferocity of his campaign will push these young families and communities toward the radicalism I imbibed years ago in Poughkeepsie, before Benedict. It will push them toward the belief that the new Mass represents a new religion, one dedicated to the unity of man on earth rather than the love of Christ."
This is a call to serve the Ways of the World or man worshiping mankind itself and all the trappings of materialism along with earthly power and science which we can plainly see where that has led just over the last year and a half toward oppression and totalitarian control of humanity producing a Culture of Death with already millions of innocent people being crippled or killed with the fraud pandemic vaccine death jab! This radial call to worship materialism and earthly man-made power is a complete denial of Jesus Christ and will be the open door for Satan to step in with the Antichrist to rule and oppress humanity
"No one can serve two masters; for either he will hate the one and love the other, or he will be devoted to the one and despise the other. You cannot serve God and mammon [money, possessions, fame, status, or whatever is valued more than the Lord]."  Mathew 6:24
There can be no doubt to anyone with their faculties intact that absolutely and unequivocally Bergoglio is promoting antichrist and evil, just like the derelict fraud criminal Puppet POTUS Biden is, working from his illegitimacy to bring ruin to anything that is good about America as well as his blaspheming God Almighty while speaking with a forked tongue and claiming he is a Catholic when he is nothing even resembling a genuine Christian! This Biden has been in bed with the CCP for decades making backdoor deals and enriching self, while selling out the American People just the way Bergoglio is selling out Catholics for a master plan of the Devil's.
And before I leave you with this longer repeated article that cuts into the heart of the demonic plans that have been in the works for as long as America was formed, ever so slowly but surely shocking down the screws to give us all the shaft!
Presbyterian, Baptist Churches Join New Coalition of Churches to Promote Killing Babies in Abortions
Pro-abortion groups in Texas are trying to raise up activists in an unlikely venue: churches.
Support for the killing of unborn babies in abortions never has been strong, and prominent pro-abortion groups have expressed concerns about apathy among their supporters. Meanwhile, the pro-life movement remains strong and active, with new pregnancy resource centers and maternity homes opening across the country and a record number of pro-life laws passing in the states, student pro-life groups in hundreds of high schools and colleges and sidewalk counselors offering prayers and support outside abortion facilities everywhere.
To thwart these life-saving efforts, the Texas Freedom Network is recruiting churches to join the pro-abortion movement, the Religion News Service reports.
And it is doing so by trying to drum up fears about the new Texas heartbeat law, which goes into effect Sept. 1. The law prohibits abortions once an unborn baby's heartbeat is detectable, about six weeks of pregnancy, and has the potential to save tens of thousands of babies' lives every year.
So far, the new Reproductive Freedom Congregations project has 25 churches signed up — mostly Unitarian along with a few Presbyterian churches and one Baptist congregation, the University Baptist Church in Austin, according to the report.   https://www.lifenews.com/2021/08/26/presbyterian-baptist-churches-join-new-coalition-of-churches-to-promote-killing-babies-in-abortions/
Presbyterian, Baptist Churches Join New Coalition of Churches to Promote Killing Babies in Abortions
Even so called Christians who say they believe in Jesus Christ our Lord and Savior are skirting or dancing around the truth and reality trying to find ways to kill more babies in and out of the womb!!!  Do we see the Devil with his serpentine grip so powerfully wrapped around the hearts, minds and souls of so many; that they openly blaspheme God Almighty in this horrible disgusting attack!!!
We're now witnessing  rapidly increasing religious deception, wars, earthquakes, famines and disease epidemic events which are described by Christ as the "beginning of sorrows" (Matthew 24:8)
Mystery Babylon
Who is the Whore of Revelation 17?
Revelation 17:1 "And there came one of the seven angels which had the seven vials, and talked with me, saying unto me, "Come hither; I will shew unto thee the judgment of the great whore that sitteth upon many waters: 2 With whom the kings of the earth have committed fornication, and the inhabitants of the earth have been made drunk with the wine of her fornication."
There is a popular belief that mystery Babylon refers to the Roman Catholic Church. One of the books most often quoted in support of this idea is Alexander Hislop's "The Two Babylons". The problem with this view is the fact that there are many false religions on the face of the earth that are neither Catholic nor Christian! As will be seen, the scriptures speak about this woman, whose origins are from ancient times, long before Christianity took up the cup of her abominations!
The idol Ishtar, from the Babylonian empire, is very likely what is spoken of by Jeremiah the prophet as the queen of heaven (Jer 7:18; 44:16-19)
Jeremiah 7:18 The children gather wood, and the fathers kindle the fire, and the women knead their dough, to make cakes to the queen of heaven, and to pour out drink offerings unto other elohim, that they may provoke me to anger.
Is there any way of identifying this queen of heaven? Looking up Jeremiah 7:18 (quoted above) in a couple of references, we find the following:
1. In the commentary of the Ryrie Study Bible: The queen of heaven. The Assyro-Babylonian goddess Ishtar.
2. In the commentary of the NIV Study Bible: Queen of Heaven. A Babylonian title for Ishtar, an important goddess in the Babylonian pantheon.
3. In Ungers Bible Dictionary it says under the heading "Queen of Heaven" (Hebrew Meleketh hashshamayim, Jer 7:18; 44:17-19, 25) Astarte, an ancient Semitic deity, identical with Babylonian Ishtar (Venus)
Is there any symbol in the world today that represents the idol Ishtar?
Fact: One of the worlds largest idols that has ever been constructed is the Statue of Liberty in the harbor of New York City. According to the following research, the Statue of Liberty is an idol which represents something specific:
The sculptor of the Statue of Liberty was Auguste Bertholdi. He belonged to the Masonic Lodge in Paris. Before beginning the statue of liberty project, Bertholdi was seeking a commission to construct a giant statue of the goddess "Isis," the Egyptian Queen of Heaven, to overlook the Suez canal. The statue of Isis was to be of "a robed woman holding aloft a torch" [The preceding information is from, "IS THE STATUE OF LIBERTY PAGAN?" by William Dankenbring]
If Revelation 17 is referring to Ishtar, represented by the Statue of Liberty, it would not only be the sins of Christianity, as would be the case with the Roman Catholic Church, but it would include most all false religions on the face of the earth, whereas Islam is possibly the beast. The beast hates the whore (Rev 17:16).
Continuing on in Revelation 17…
Revelation 17:3 So he carried me away in the spirit into the wilderness: and I saw a woman sit upon a scarlet coloured beast, full of names of blasphemy, having seven heads and ten horns.
It can be seen here that the whore rides upon the seven headed beast, which represent the seven empires that have existed throughout world history (see Daniel 7 and Rev. 13)
Revelation 17:4 And the woman was arrayed in purple and scarlet colour, and decked with gold and precious stones and pearls, having a golden cup in her hand full of abominations and filthiness of her fornication: 5 And upon her forehead was a name written, MYSTERY, BABYLON THE GREAT, THE MOTHER OF HARLOTS AND ABOMINATIONS OF THE EARTH.
Mystery Babylon is guilty of being the mother of harlots and abominations of the earth. Even though the Roman Catholic Church has been referred to as the mother of the protestant reformation, the mother goddess Ishtar has even deeper roots.
It is interesting to note that ancient Babyon's chief deity "Ishtar" (AKA "Iana") held the very same title in Babylon, "Mother of Harlots".
As Alexander Hislop shows, in his book entitled, "The Two Babylons", Isis is the Egyptian name for the Babylonian goddess Ishtar, who is also the same as Athena (Greece), Minerva (Egypt and Greece), Astarte (Syria), Cybele (Rome), Ashtoreth (Israel), and Diana (Ephesus).
A site on the internet entitled, Statue of Liberty Facts, makes the following statements: http://yahushua.net/babylon/liberty/libertyfacts.htm
7 Spikes in the Crown represent:
Either Seven Seas:
Arctic, Antarctic, North & South Atlantic,
North & South Pacific, Indian.
SEVEN SEAS — Figuratively, all the waters or oceans of the world.
The phrase probably has its origins in Brahmanic (Hindu) mythology:
The seven seas dividing and surrounding the seven land masses of the earth. In modern times it has been applied to the seven oceans.
Or Seven Continents:
North and South America, Europe,
Asia, Africa, Antarctica, Australia
Continuing on with Revelation chapter 17
Revelation 17:6 And I saw the woman drunken with the blood of the saints, and with the blood of the martyrs of Yahushua: and when I saw her, I wondered with great admiration. 7 And the angel said unto me, "Wherefore didst thou marvel? I will tell thee the mystery of the woman, and of the beast that carrieth her, which hath the seven heads and ten horns. 8 The beast that thou sawest was, and is not; and shall ascend out of the bottomless pit, and go into perdition: and they that dwell on the earth shall wonder, whose names were not written in the book of life from the foundation of the world, when they behold the beast that was, and is not, and yet is. 9 And here is the mind which hath wisdom. The seven heads are seven mountains, on which the woman sitteth." 10 And there are seven kings: five are fallen, and one is, and the other is not yet come; and when he cometh, he must continue a short space.
A familiar explanation of verse 9 is that the seven mountains represent the seven hills of Rome; but how many believe that the seven heads of the beast represent the seven hills of Rome? Notice that in verse nine, it says, "And here is the mind that has wisdom." So, in order to understand the rest of verse nine, along with verse ten, it requires wisdom…
Proverbs 9:10 The fear of YHWH is the beginning of wisdom: and the knowledge of the set-apart is understanding.
In Daniel chapter 7, the seven heads are on four beasts (representing four kingdoms). But, in Revelation 17:10, it says that there are seven kings. So the seven heads represent seven kings, and by implication they can represent seven kingdoms. Can we identify seven kingdoms that have existed, starting from the time of the flood?
It says that five are fallen, one is, and the other is not yet come. From the time of the flood, there have been five kingdoms that have fallen: Egypt, Assyria, Babylon, Medo-Persia and Greece. The one that was during the time of John was Rome. And one that had not yet come was the Ottoman Empire. It seems that the whore, that rides upon this beast, is the mother of all the false religions within these empires.
According to Revelation 13, the seven headed beast represents the final evil empire during the great tribulation (A culmination of the preceding 7 empires).
As we have already seen (in Revelation 17:1), this woman sits upon many waters. Then in verse 15…
Rev 17:15 And he saith unto me, "The waters which thou sawest, where the whore sitteth, are peoples, and multitudes, and nations, and tongues."
It is interesting that the promoters of the Statue of Liberty claim that the seven spikes of her crown represent the seven seas!
More from "Statue of Liberty Facts"…
Official accepting Statue on behalf of US: President Grover Cleveland
Date of Acceptance by President: October 28, 1886
Part of Acceptance Statement by President Cleveland:
"We will not forget that liberty here made her home;
nor shall her chosen altar be neglected."
Some highlights of the Statue Inscription:
…a mighty woman with a torch
and her name Mother of Exiles.
"Keep ancient lands your storied pomp!"
cries she with silent lips.
"Give me your tired, your poor,
Your huddled masses yearning to breathe free,
The wretched refuse of your teeming shore.
Send these, the homeless, tempest-tost to me,
I lift my lamp beside the golden door.
Emma Lazarus (1849-1887)
The idol Ishtar (represented by the Statue of Liberty) was known, in ancient Babylon, as the goddess of personal freedom and the goddess of immigrants. The following was taken from, "America the Babylon" by Richard Coombs:
Ishtar was called the matron goddess of prostitution because she promoted sexual freedom. Indeed, she had invented the concept. Slaves considered her their goddess in the hopes of winning their freedom. Many women who gained freedom later turned to prostitution to survive and thereby retained Libertas as their goddess, especially if they became priestesses in the Libertas cult. Libertas was also a goddess of war in order to fight for freedom. She was also referred at times as the goddess of victory because freedom must have victory in order to survive. This goddess was also the goddess of immigrants. The whole idea of immigration connoted the idea of freedom. Her popularity was also unique because of her unique doctrine of hearing personal prayers. This unique doctrine was something that most of the pagan deity doctrines were not disposed towards.
We know that this goddess existed because of the records left behind to us. We have the ancient writings of Cicero who writes of this goddess and her Temple on the Aventine Way in Rome. She was depicted on some Roman coins as wearing a freedom cap and having a wreath along with a spear or sometimes a sword. Such coin images were not the only depictions. Sometimes she was well robed and at other times seductively unclothed in both sculptures and paintings. We know of Libertas being referred to as the Mother of Harlots by the famous Roman historian (and senator) Cicero's writings. Cicero indicates that she was also a very early goddess of the Greeks even before early Roman civilization developed.
This very freedom has brought to these shores (America) every false religion known to man. Even if one were to have the wisdom of Solomon, they would still be vulnerable to the snares of false religions. Solomon committed fornication with the whore of Revelation 17…
1 Kings 11:4 For it came to pass, when Solomon was old, that his wives turned away his heart after other elohim: and his heart was not perfect with YHWH his Elohim, as was the heart of David his father. 5 For Solomon went after Ashtoreth the goddess of the Zidonians, and after Milcom the abomination of the Ammonites.
Remember that Ashtereth is another name for the Queen of Heaven. Again, Revelation 17, verses 1 and 15 call her a whore that sits upon many waters, which seems to represent the entire world!
Revelation 17:16-17 talks about ten kings hating the whore and making her desolate…
17:16 And the ten horns which thou sawest upon the beast, these shall hate the whore, and shall make her desolate and naked, and shall eat her flesh, and burn her with fire. 17 For YHWH hath put in their hearts to fulfil His will, and to agree, and give their kingdom unto the beast, until the words of YHWH shall be fulfilled.
The Beast is going to be a one world religion/government that will not tolerate religious freedom of any kind. (see 2 Thessalonians 2:3-4)
Notice how the following verse in Revelation ties chapter 17, religious Babylon, with chapter 18, commercial Babylon…
Revelation 17:18 And the woman which thou sawest is that great city, which reigneth over the kings of the earth.
By now it should be obvious that the Statue of Liberty represents the whore spoken of in Revelation 17. Not only does the Statue of Liberty represent the religious (idolatrous) freedom found in the United States, but she is also a symbol for New York City, the economic capital of Babylon the Great, spoken of in Revelation 18.
Look at that photo of The Statue of Liberty and remember that this iconic figure in the most  Iconic City in America was attacked by Demonic Jihadists of the fraud religion Political Ideology of Islam which is of Satan!  The same Jihadists that our Fraud Puppet Demonic POTUS just gave a Country back to these devils where they trained for the attack upon America back in September 11, 2001!  This demonic POTUS even gave them a well supplied military hardware armament worth in the hundreds of billions of dollars and does anyone think they are not going to train and use this equipment to attack whoever and whenever they can or desire?   Folks, please make no mistake about it; this is all work of the Devil!  Now like that Bishop in Spain we have demonic infestation throughout our top echelon of government and beyond in all walks of life!  The demons are many times subtle and cunning!
Pope Francis said he "dreams of a post-virus world without inequality" while also pushing for a "universal basic income" along with his new world economy promoted by Jeffrey Sachs. While these may appear to be noble aspirations – ideals which the world may applaud –  in reality they are the aims of atheistic communism now in the throes of eclipsing the entire planet (as was always the goal of Communists): essentially, the destruction of western economy in order to eliminate the middle class. This will then result in a race of subservient slaves to the few wealthy elites and ruling class."
Summing up; what should we consider with all of the current circumstances and cast of nefarious persons many of them powerful and in concert with Globalization New World Order mandates be actually aligning the world with in order to allow who or what to be in charge?  Please let me introduce a piece of old Rock and Roll and it's describing just who that might be!
https://www.youtube.com/watch?v=f47TZePukuQ&list=RDf47TZePukuQ&start_radio=1  Audio
"Please allow me to introduce myself
I'm a man of wealth and taste
I've been around for a long, long years
Stole million man's soul an faith
And I was 'round when Jesus Christ
Had his moment of doubt and pain
Made damn sure that Pilate
Washed his hands and sealed his fate
Pleased to meet you
Hope you guess my name
But what's puzzling you
Is the nature of my game
I stuck around St. Petersburg
When I saw it was a time for a change
Killed Tsar and his ministers
Anastasia screamed in vain
I rode a tank
Held a general's rank
When the blitzkrieg raged
And the bodies stank
Pleased to meet you
Hope you guess my name, oh yeah
Ah, what's puzzling you
Is the nature of my game, oh yeah
(Woo woo, woo woo)
I watched with glee
While your kings and queens
Fought for ten decades
For the gods they made
(Woo woo, woo woo)
I shouted out
Who killed the Kennedys?
When after all
It was you and me
(Who who, who who)
Let me please introduce myself
I'm a man of wealth and taste
And I laid traps for troubadours
Who get killed before they reached Bombay
(Woo woo, who who)
Pleased to meet you
Hope you guessed my name, oh yeah
(Who who)
But what's puzzling you
Is the nature of my game, oh yeah, get down, baby
(Who who, who who)
Pleased to meet you
Hope you guessed my name, oh yeah
But what's confusing you
Is just the nature of my game
(Woo woo, who who)
Just as every cop is a criminal
And all the sinners saints
As heads is tails
Just call me Lucifer
'Cause I'm in need of some restraint
(Who who, who who)
So if you meet me
Have some courtesy
Have some sympathy, and some taste
(Woo woo)
Use all your well-learned politnesse
Or I'll lay your soul to waste, mm yeah
(Woo woo, woo woo)
Pleased to meet you
Hope you guessed my name, mm yeah
(Who who)
But what's puzzling you
Is the nature of my game, mm mean it, get down
(Woo woo, woo woo)
Woo, who
Oh yeah, get on down
Oh yeah
Oh yeah!
(Woo woo)
Tell me baby, what's my name
Tell me honey, can ya guess my name
Tell me baby, what's my name
I tell you one time, you're to blame
Oh, who
Woo, woo
Woo, who
Woo, woo
Woo, who, who
Woo, who, who
Oh, yeah
What's my name
Tell me, baby, what's my name
Tell me, sweetie, what's my name
Woo, who, who
Woo, who, who rick
Woo, who, who
Woo, who, who
Woo, who, who
Woo, who, who
Oh, yeah
Woo woo
Woo woo"
YOU ALL KNOW WHO!!!
Pray, pray, PRAY NOW SISTERS AND BROTHERS TO JESUS CHRIST
Brother in Christ Jesus,
Lawrence Morra III
Former Planned Parenthood Director Abby Johnson Slams Abortion: Killing Babies "is Demonic"
National | Micaiah Bilger | Sep 7, 2021 | 11:30AM | Washington, DC
Pro-life leader Abby Johnson said she felt sick as she read reports about abortionists killing unborn babies up to the last minutes before the new Texas heartbeat law went into effect last week.
Though some news outlets portrayed the abortionists' work as compassionate, Johnson said it really was "demonic," according to The Christian Post.
"How … gross that you're like, 'Gotta kill babies up until that last second,'" she said on her podcast "Politely Rude." "That's how you know that abortion is just demonic. That's how you know that we're just dealing with evil here — that there's like just, 'Gotta kill them right up until the last second.'"
The Texas heartbeat law went into effect Sept. 1, prohibiting abortions once an unborn baby's heartbeat is detectable, about six weeks of pregnancy. The legislation has the potential to save tens of thousands of babies' lives every year.
Follow LifeNews on the Parler social media network for the latest pro-life news!
Reports from news outlets in Texas and other parts of the country highlighted how abortionists worked right up until midnight on Aug. 31 to abort unborn babies. The 19th News reported about one 80-something year old abortionist who worked for 17 hours straight, aborting 67 unborn babies at Whole Woman's Health in Fort Worth. One of his co-workers described his work as a "victory."
But Johnson slammed the life-destroying spree as "evil."
She said she knows all too well the harm that abortion causes women as well as children. She had two abortions herself before leaving her job running a Planned Parenthood abortion facility in Texas. Since she became pro-life, Johnson said she has met thousands of other women who regret their abortions as well.
"Women are living with lifelong regret because of these hasty decisions that they make inside of these abortion facilities each and every day," she said.
Johnson celebrated when the heartbeat law went into effect.
"Today, babies with a detectable heartbeat in the womb must be protected," Johnson said. "And that just thrills me to bits. … I'm just so excited."
She continued: "I want to make it super hard [to get an abortion] because I want your baby to live. I don't want you to live a lifetime of regret because of a decision that you made in haste … a decision that you made in crisis."
Johnson runs a pro-life organization, LoveLine, that provides financial and emotional support to pregnant and parenting mothers in need. She also runs a ministry called And Then There Were None that helps abortion workers leave the industry.
Her organizations and many others are reaching out to pregnant women across Texas with compassion and understanding, offering resources and emotional support to help them and their babies. Earlier this year, state lawmakers increased support for pregnant and parenting mothers and babies, ensuring that they have resources to choose life for their babies.
Women may call or text 1-800-712-4357 or chat online with OptionLine, a 24-hour bilingual hotline run by Heartbeat International that has helped connect millions of women to pregnancy and parenting resources.
Fair Use
This site contains copyrighted material the use of which has not always been specifically authorized by the copyright owner. We are making such material available in our efforts to advance understanding of environmental, political, human rights, economic, democracy, scientific, and social justice issues, etc. We believe this constitutes a 'fair use' of any such copyrighted material as provided for in section 107 of the US Copyright Law. In accordance with Title 17 U.S.C. Section 107, the material on this site is distributed without profit to those who have expressed a prior interest in receiving the included information for research and educational purposes. For more info go to: http://www.law.cornell.edu/uscode/17/107.shtml. If you wish to use copyrighted material from this site for purposes of your own that go beyond 'fair use', you must obtain permission from the copyright owner.