There are false Teachers and False teachings going around by Self-Stylized philosophers who speak outside of the Word of God or manipulate it to fit their own narrative!
Fearing God is the beginning of Wisdom!
The fear of the LORD is the beginning of wisdom, and knowledge of the Holy One is understanding.  Proverbs 9:10

"Thus saith the LORD, Learn not the way of the heathen, and be not dismayed at the signs of heaven; for the heathen are dismayed at them.  For the customs of the people are vain…" -Jeremiah 10:2,3
We all Need to be careful if talking about the "material realm" when relating that to the "Alpha and the Omega" and the "I Am," because He is indefinable and absolute beyond anything in the material, that which is truly inconceivable and incomprehensible. Not seeing this Truth; It's like saying people can in the end, they just get to check in, regardless of what they are carrying for sin or a deficit!  Sin is cumulative and there comes a point of no return when there is no justice to be had in a person's soul, if they aren't continually seeking to remain in a "state of grace;" because otherwise they are already condemned, by their own volition.
The damnable occult forces of "Yin" and "Yang" are a lie, they do not exist in reality.
The yin-yang symbol can be seen almost any place one looks.  It is used in logos, on book covers, in the New Age movement, in the martial arts, by Wiccans, by the homosexual community, and so forth. "Yin and yang are considered to be opposites (opposing forces).  Yin represents eternity, dark, feminine, left side of the body, etc.  Yang is its opposite and represents history, light, masculine, right side of the body, etc."  "Yang is male, positive, and represented by the Sun.  Yin is female, negative, and represented by the Moon," (says Paul E. Desautels in The Gem Kingdom) jesus-is-savior.com
"The symbol itself dates back at least to the fourth century B.C., and has been identified with the Eastern philosophical religions of Confucianism, Buddhism, and Taoism. In the Western world it has long been adopted into the symbolism of myth, magic, astrology, and witchcraft." jesus-is-savior.com
"But I will show you whom you should fear: Fear him who, after your body has been killed, has authority to throw you into hell. Yes, I tell you, fear him." Luke 12:5
"And fear not them which kill the body, but are not able to kill the soul: but rather fear him which is able to destroy both soul and body in hell." Matthew 10:28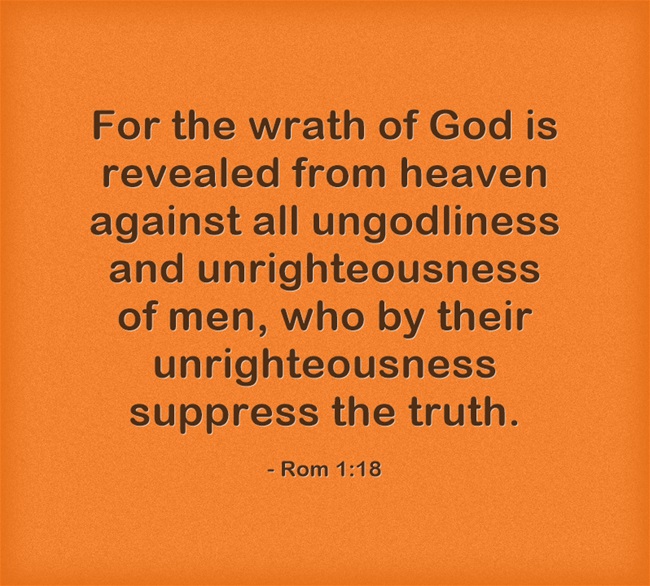 "God has a wrath" that pours out upon the unjust and unrepentant due to their opposition or "opposite energy" that "God is full of," so the unholy fill themselves with Anti God or Antichrist; Jesus is for forgiveness and salvation, but, the true evil among us will be filled with unforgiving, only that which is of Satan!  His Wrath He does pour out onto the evil, and He is all love, but He is a God of "Justice and Judgments," and Scripture plainly says there are those who will be in a place of sulfur and fire! "Dad always said everyone gets what they deserve, it's very fair actually!" 
"31 He who comes from above is above all. He who is of the earth belongs to the earth and speaks in an earthly way. He who comes from heaven is above all. 32 He bears witness to what he has seen and heard, yet no one receives his testimony. 33 Whoever receives his testimony sets his seal to this, that God is true. 34 For he whom God has sent utters the words of God, for he gives the Spirit without measure. 35 The Father loves the Son and has given all things into his hand. 36 Whoever believes in the Son has eternal life; whoever does not obey the Son shall not see life, but the wrath of God remains on him." John 3:31-36
"22Many will say to Me on that day, 'Lord, Lord, did we not prophesy in Your name, and in Your name drive out demons and perform many miracles?' 23 Then I will tell them plainly, 'I never knew you; depart from Me, you workers of lawlessness!' 24Therefore everyone who hears these words of Mine and acts on them is like a wise man who built his house on the rock.…" Matthew 7:22-24
"what was right will be wrong and what was wrong will be right!" Timothy 2 3 states, "This know also, that in the last days perilous times shall come.
2 For men shall be lovers of their own selves, covetous, boasters, proud, blasphemers, disobedient to parents, unthankful, unholy,
3 Without natural affection, trucebreakers, false accusers, incontinent, fierce, despisers of those that are good,
4 Traitors, heady, high-minded, lovers of pleasures more than lovers of God;
5 Having a form of godliness, but denying the power thereof: from such turn away."
As it says in 1 Peter 1:14-16 "But as for the cowardly, the faithless, the detestable, as for murderers, the sexually immoral, sorcerers, idolaters, and all liars, their portion will be in the lake that burns with fire and sulfur, which is the second death."
"5And whoever welcomes a little child like this in My name welcomes Me. 6But if anyone causes one of these little ones who believe in Me to stumble, it would be better for him to have a large millstone hung around his neck and to be drowned in the depths of the sea. 7Woe to the world for the causes of sin. These stumbling blocks must come, but woe to the man through whom they come!" Matthew 18:5-7
Amen!
We are all in sin so do not fear the world or anything or anyone in it; fear God!
11and every tongue confess that Jesus Christ is Lord, to the glory of God the Father. 12Therefore, my beloved, just as you have always obeyed, not only in my presence, but now even more in my absence, continue to work out your salvation with fear and trembling. 13For it is God who works in you to will and to act on behalf of His good purpose.… Philippians 2:11-13
God bless you.
https://lawrencemorra.com/2021/10/31/paganism-in-the-catholic-church-prophecy-fulfilled-you-tube/
Amended on 3/17/22 with additional pertinent text and video presentation.
LSNTV Launch
EXCLUSIVE: Bishop Schneider warns of 'growing' Communist culture in West
'The Soviet Union and other communist countries sought to reduce all … human existence to materialism, to the material aspects of the Earth, and this is ever more growing … in the western world,' Schneider said.
Republication by: Lawrence Morra III
Zero Lift-Off   Only The Beginning
For sharing and informational purposes on this platform only.
October  29, 2021
This is the time on earth when the entire materialistic system driven by the small group of globalist rulers of the corrupted ways of the world system that we are warned throughout the Holy Scriptures is the material system that is ruled by the Prince of this world the father of all lies Satan who has for over a century now used men like Vladimir Lenin, Karl Marx, Josef Stalin, Pol Pot and now many others socialist minded atheistic leaders around the globe who  are all cooperating with this idea of one world government and mother earth utopian religion which is all an abomination and blasphemy against God Almighty and a rejection outright of Jesus Christ our only path to Salvation and everlasting life in Heaven. These are all agents of the antichrist to come who are diligently working to enslave the entire human race with this now on the horizon totalitarian government control of our lives and minds to the point that we don't even own our own bodies; this is the beginning of total earthly demonic possession of humanity; hell on earth that we must fight back against! We must resist and fight back with all we have through Jesus Christ our Lord, Savior and Redeemer!  Amen.
If the free world followed the prescription of this blasphemous concocted Utopia as say for example; back during WWII it all would have gone to the devils and most of Europe would have been living under the mad man Hitler as their Führer and subsequent communist madmen like Stalin!  And during that era and on into the 1950's when communism was introduced through communist regimes in South East Asia fueled by "the world's largest communist powers, the Soviet Union and the People's Republic of China, both of which lent material and support directly to North Vietnam. In doing so, they hoped to consolidate and expand communism in the Asian hemisphere, bog the United States down in a long, expensive conflict abroad and thus gain an advantage in the Cold War." Leading to nuclear weapons proliferation and supremacy then world dominance as the master evil plan!
But now these current day maligned individuals in our governments are announcing by their current mandates and actions that they would rather have had people ruled under the Marxist leader Pol Pot," the Khmer Rouge who tried to take Cambodia back to the Middle Ages, forcing millions of people from the cities to work on communal farms in the countryside." Under his brutal regime the bodies stacked up to the tops of trees!!!  Under that monster and the many others like him fueled by the communists of the USSR and China he crushed the people and freedom was nonexistent; only total control and death prevailed!
Pol Pot led one of the most brutal regimes that have ever existed in the human history. "He killed over a quarter the total of Cambodian's population. If Vietnam had not helped us to overthrow Pol Pot, then many things could happen to Cambodia".
The Washington political arena is no better with so many of its wealthy swamp creatures having their way for decades! Biden has been the epitome of the crooked, career liar politician racketeer his whole adult life, what we call in these parts a real greaser and dirt bag snake, that has all the wealth he possesses from back door deals and nefarious Burisma or other such kickback money laundering deals with Communist China as well, where he used his elected office to enrich himself and family members. Then he says he has no problem with same sex marriage or full and late term abortion but calls himself a Catholic! 
This man is an evil maniac puppet minion of Satan who sits as false President
Let me say now that as I see it and I'm nothing special, if the human race and especially America the Nation Founded under God Almighty doesn't take a hard right turn to the road of Salvation and off this current road to Perdition and onward to Hell; that God's Absolute Wrath will be coming sooner rather than later, as in short order! The GOP is not much better with all their smoke and mirrors or kicking the can down the road for decades and outright lying to the people just like the slimy Democrats across the aisle; producing a completely dysfunctional and failed Congress full of horrendous sin! Time is just about up for any chance to at least give a hard push in the right direction, because as far as saving this mess or cauldron of mind-boggling sin from the final doom that is coming to it; there isn't a snowballs chance in hell of human beings preventing what they are due and deserve!
Some folks including myself will say, well surely there is always hope; and I say to you and them, try and figure that into the equation of what befell Sodom and Gomorrah! There is no hope for the completely defiled and wicked who actually spit in God's eye and curse at Him; and that is happening full bore now, even keeping this close to home as in right here in America, not the place where it's the "buffalo roaming, land of the free, and home of the brave;" but now it's where the most nefarious, materialistic, greedy, insane even demonically possessed have control and worship Satan; with all the earthly power that he bestowed upon them for their "service" contracts! Sold their souls to the Devil!
Yes these words are absolutely true and coming to fruition before our very eyes; "Woe to those who call evil good, and good evil; who put darkness for light, and light for darkness; who put bitter for sweet, and sweet for bitter!" (Isaiah 5:20).
FRONT ROYAL, Virginia (LifeSiteNews) – In an exclusive interview with LifeSiteNews, Bishop Athanasius Schneider warned of a growing "spirit of communism" in formerly free and Christian western nations.  
Bishop Schneider grew up in the former Soviet Union in a German family whose ancestors had settled in the Black Sea region in the 19th century. There were many Germans who settled in that area, and according to the bishop, they were called "Black Sea Germans," most of them farmers. They brought with them their Catholic faith and culture, amidst an area that was and is largely a mix of Muslims and Eastern Orthodox Christians. 
After the Second World War, his parents were "deported by Stalin" into forced labour camps. Eventually his parents regained their freedom and found their way to the Central Asian country of Kyrgyzstan, where Bishop Schneider was born, just south of Kazakhstan, where he now lives. He grew up attending "underground" Catholic churches, as his parents held on to their ancestral faith, even though it was heavily restricted or illegal to practice under the Communist regime that controlled the area.  
Schneider told LifeSiteNews reporter Jim Hale that he grew up speaking German, but also spent time in Soviet schools as a youth, and thus he spoke Russian as well. Eventually the family made it to Germany together. 
Hale asked the bishop if – given the rise of government restrictions, ostensibly due to COVID – he saw any parallels between what is happening in our part of the world today and what life was like under the Soviet Union. 
Schneider said that he did believe there were parallels, even if things did not appear the same on the surface.  
"The Soviet Union and other communist countries sought to reduce all … human existence to materialism, to the material aspects of the Earth," Schneider explained.  
"And this is ever more growing since decades in the western world. A culture of materialism… It's [a] kind of new form of atheism, which is the other pillar of the communist system." 
The bishop believes that a "small group" of the "political elite" is controlling the citizens of the western world, largely through technological means. He voiced concerns about the lack of true property rights in North America and Europe today, by which he means especially the rights of an individual over his own body.  
Speaking about coerced vaccination he said, "With this COVID crisis, we see ever more that you are losing even the right to determine your own body. You are losing the right to the property of your own body because the state or the small elite group says we are now the owner of your body." 
He said that the continuation of "COVID rules," like the insistence on "green passes," has created a type of "global prison" where everyone is monitored as if in a prison. 
The bishop elaborated that, just like under the Soviets, citizens are now treated like children, as if they did not "have enough intellect and reason."  Thus, everyone is told "how to behave" by elites who "use the same terminology" world-wide. 
He called the world under COVID mandates a type of "slave society" with a "slave system."  
In addition to social commentary, Bishop Schneider related the crisis in world government to the crisis in the Catholic Church, which he described as having a hierarchy that has been "infiltrated" by the materialist spirit. According to the bishop, the materialist direction of the Vatican can been seen in Rome's focus on "Mother-Earth." He remarked that Pope Francis himself is "behaving as if earthly realities, which are material realities" are "above the care of the soul." 
Jim Hale asked the bishops if this stemmed from a utopian ideal consistent with Marxism, which purportedly inspires communists to try "to build a heaven on earth." 
"This is communism, because Marx and Lenin, they said communism is the paradise on earth," Schneider replied.  
"And so this spirit penetrated very much [into] the life of the Church and now in the current agenda of the Holy See, unfortunately." 
To combat the materialist spirit, Schneider encouraged the faithful to "restore the primacy of the soul, of the care of the soul and of the eternal life." He added that this "is the core of the gospel. And for this, Jesus Christ came to redeem us from our sins… and from eternal damnation and to open the gates to Heaven." 
In the Soviet Union, it was not uncommon for religion to be co-opted by politicians and the state for political gain. Hale asked Bishop Schneider if he thought it was acceptable that self-described "Catholics" Joe Biden and Nancy Pelosi receive Holy Communion while promoting anti-life and pro-abortion policies.  
Schneider said that there are no circumstances in which a high-profile Catholic who promotes abortion can be admitted to Holy Communion until he repents and publicly retracts his pro-abortion advocacy.  
"Never," he underscored. 
The bishop expanded his opinion to any politicians who advocate for behaviour against the teachings of the Catholic Church.  
"These politicians, when they openly promote abortion or same sex marriages, they are they are not in union with the teaching of the Church," Schneider said.   
"And so how can they… say 'We are in full communion with… the Church,' which implies the communion with the teaching of the Church?" 
The bishop described the reception of Holy Communion by a politician who rejects Church teaching as "sacrilegious" and "an offense to God." He added that it sets a dangerous precedent as the public might see it as the Church "approving" grave sin.  
He said that it is "not charitable" for priests and bishops to offer Holy Communion to politicians like Biden and Pelosi, as it is like "allowing them to eat their own judgement." He called it an "act of war against the love of neighbor."  
© 1997-2022 LifeSiteNews.com.
All Rights Reserved.
https://lawrencemorra.com/2021/10/29/exclusive-bishop-schneider-warns-of-growing-communist-culture-in-west/
God bless you.
Brother in Christ Jesus,
Lawence Morra III
The Rampant Smoke and Mirrors Deception now producing a Global Fraud the likes of which has never been seen on earth is clear evidence to me that we are in the most unstable, unprecedented potentially calamitous circumstance that the human race has ever placed itself in by allowing Satan the prince of this material world to be its main influencer in the high tech age while only giving  halfhearted lip service to Jesus Christ even actually pushing Him aside as the Savior while people serve the beast system and worship self or false ideologies.
Fair Use
This site contains copyrighted material the use of which has not always been specifically authorized by the copyright owner. We are making such material available in our efforts to advance understanding of environmental, political, human rights, economic, democracy, scientific, and social justice issues, etc. We believe this constitutes a 'fair use' of any such copyrighted material as provided for in section 107 of the US Copyright Law. In accordance with Title 17 U.S.C. Section 107, the material on this site is distributed without profit to those who have expressed a prior interest in receiving the included information for research and educational purposes. For more info go to: http://www.law.cornell.edu/uscode/17/107.shtml. If you wish to use copyrighted material from this site for purposes of your own that go beyond 'fair use', you must obtain permission from the copyright owner. LM